Do you ever wonder what it takes to keep our building functioning? It takes a team with grace, love for the people, endurance, adaptability, and a deep desire to create a space that gives people a chance to encounter Jesus. Before March 15, 2020 it took a team of eight to keep the building clean, functional, safe and equipped for use by the various internal ministries and external groups. That team is now down to four lion-hearted members led by Kyle Reed, Director of Facility Operations. This team was all hands-on deck at the onset of the pandemic, with all eight team members who responded immediately to the changes imposed by COVID-19. And by April, they were down to the four who care for our building and our ministries. Brad Benoit, Neala Cook, Travis Adolf, and Kyle Reed, we are inspired by your efforts and grateful for how you care for us.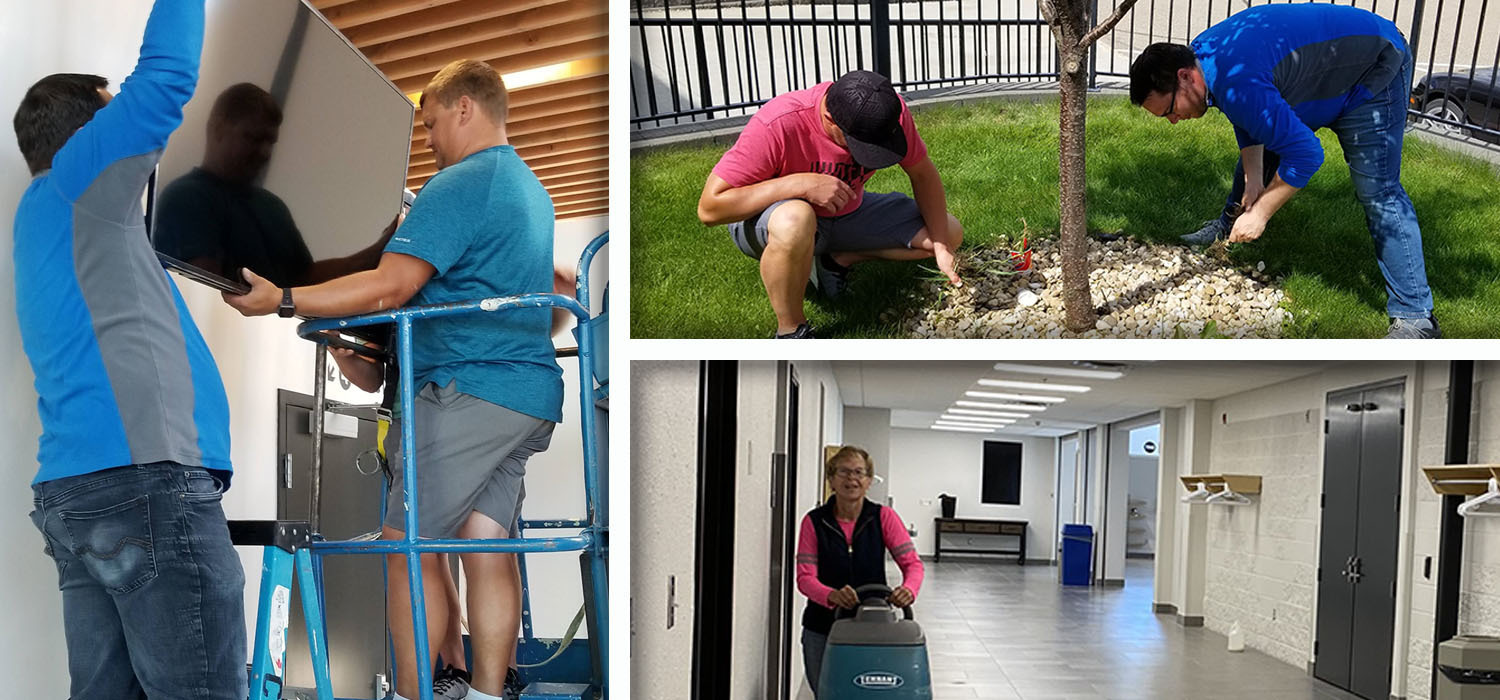 You may be wondering what it took to sanitize and clean the building during the past months. Beginning the week of March 15, it took six people with two scaffolds and ladders two weeks to clean the 20,000 sq. feet of the Children's Wing. The end goal…to sanitize, clean and lockdown the space. As other ministries were figuring out how to deliver content online, Kyle and his team were figuring out how to tackle the vast square footage that we call CrossRoads.
After the Children's wing was completed, the team moved on to the Youth Centre. This space also took two weeks to sanitize, clean, and repair. Since the building wasn't being used they took the extra time to wash the walls from ceiling to floor, changed many light bulbs, and made repairs to a well-used space. The wear and tear was tackled with drywall mud, tape and 40 gallons of paint.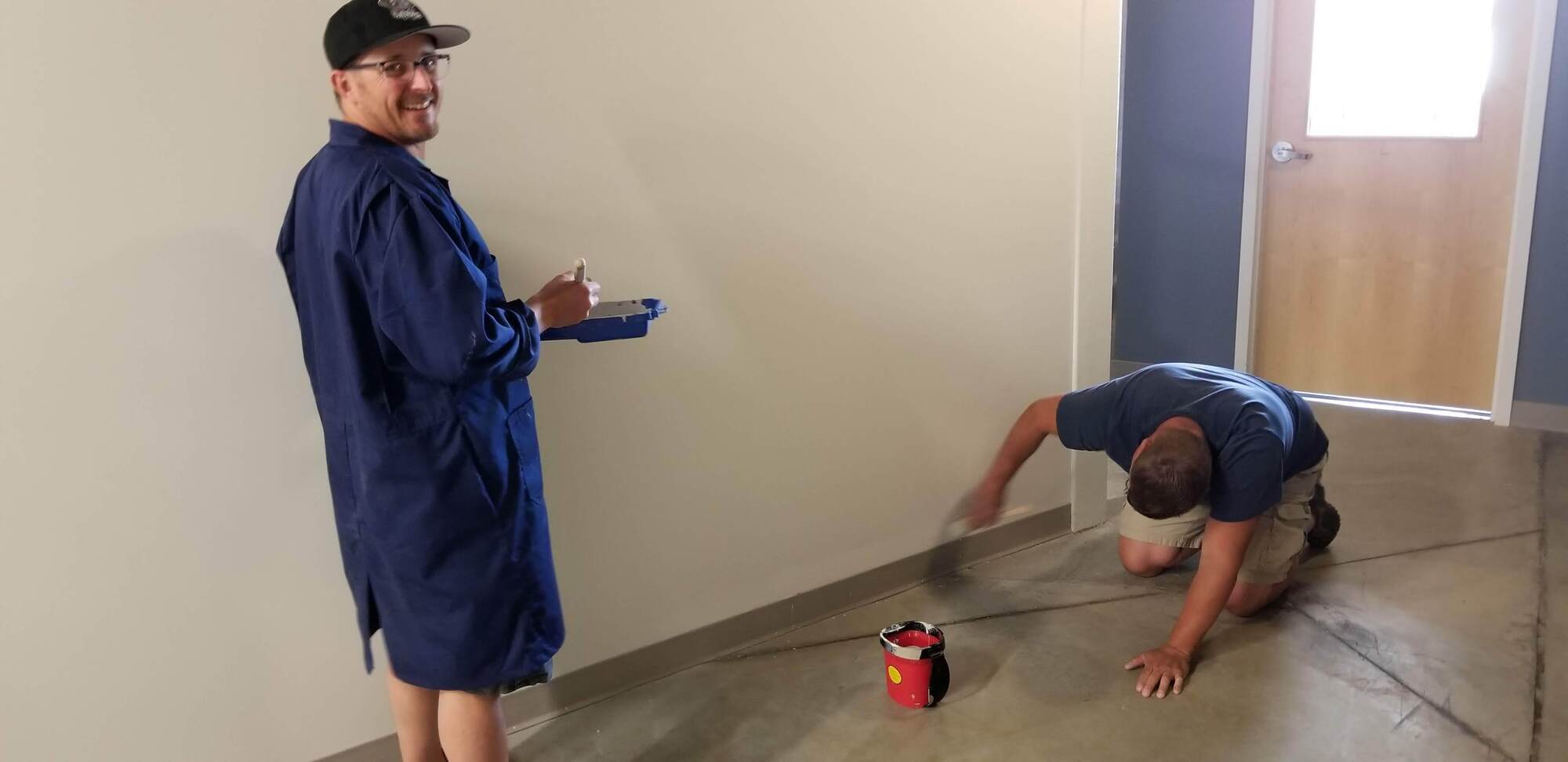 Yes, you read that right… 40 gallons of paint to refresh the walls in the Youth Centre. Every bathroom was sanitized and deep cleaned and the Gym was prepped for the CrossRoads Cares Food Initiative.
Not only did the Facility Team respond immediately at the onset of COVID-19, they continued to pivot daily as new information was released which required new responses to the circumstance. Pivoting is a move made by an athlete during a game in order to avoid barriers and find new ways around obstacles to get to the goal line. Kyle Reed is not just a supervisor but a natural coach who empowers his team to use their strengths to find new ways around all the obstacles they encountered during the pandemic.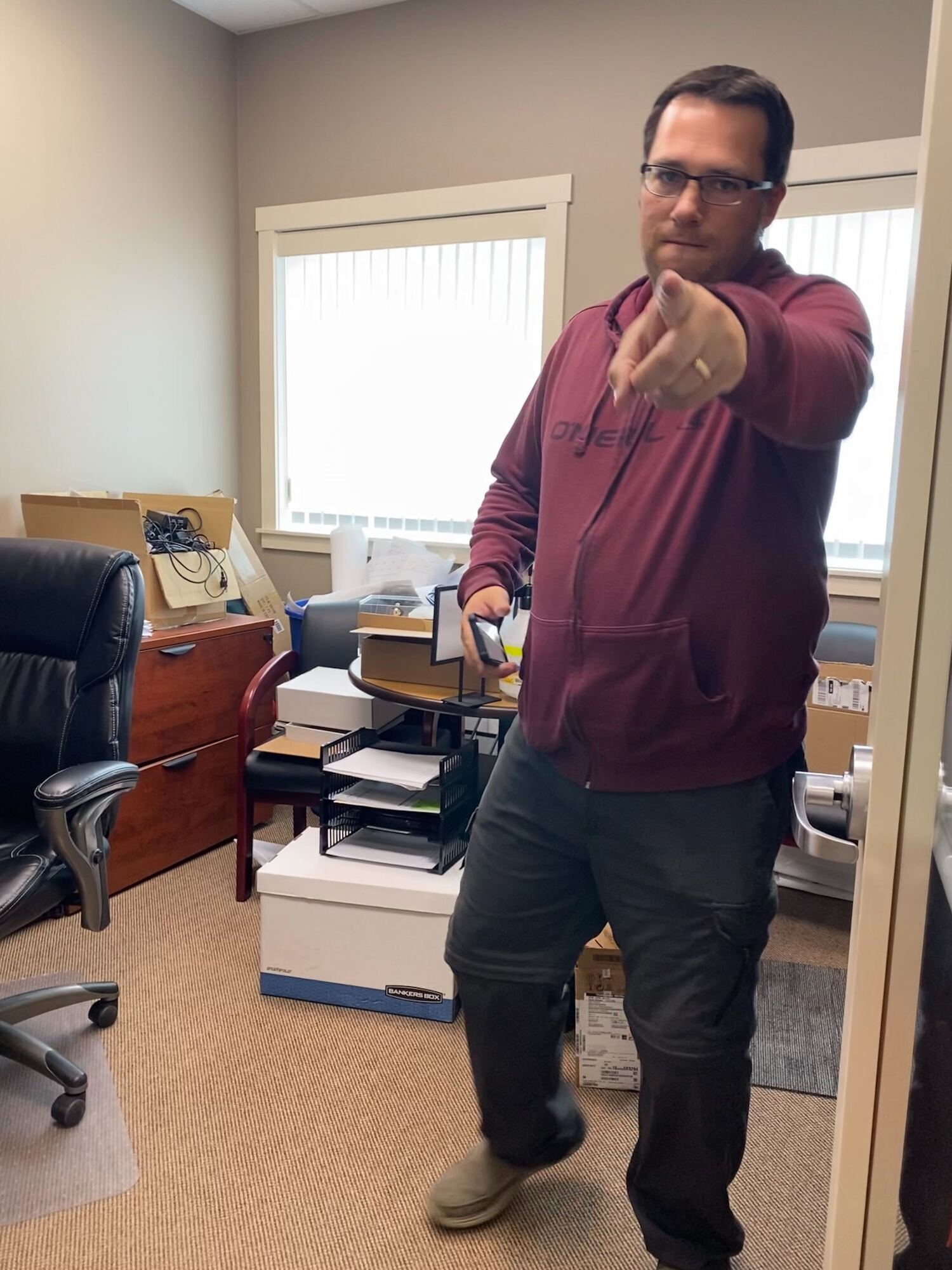 During the Food Initiative, the team experienced first-hand the response of our CrossRoads family to the needs of our Red Deer and area community. They greeted people daily who were dropping off food supplies or entering the building to fill food crates that would later be delivered. The team was surprised at the positive impact many felt by being physically present in the building again. They were honored to be able to make it possible for a few ministries to continue to be present on site.
They also helped create the practices and space for the Worship Ministry and the Sunday Service team to continue to be in the building. This was a gift to all of us because even though we couldn't meet in person every Sunday, those teams haven't missed one week of delivering sermons to us at home. That wouldn't have been possible without the Facility Team and their preparation of the space, their heart for the Kingdom of God to be shared no matter what the obstacle, and their diligence in making sure we honor the Public Health orders as they came out.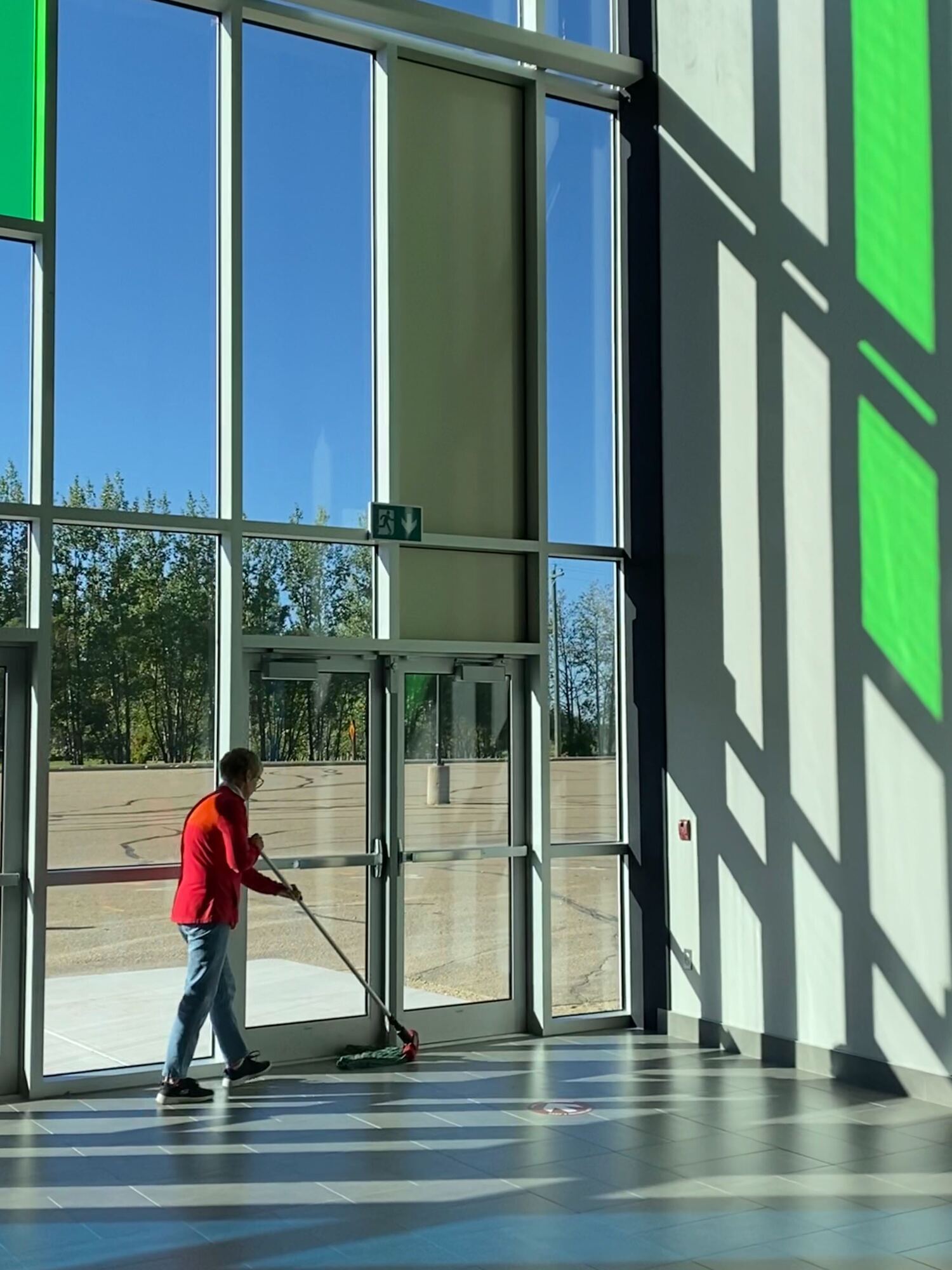 The work it took to create those opportunities shouldn't be overlooked. There were protocols from AHS that had to be followed, variables that changed daily and the safety of a community to consider. Allowing just two ministries to continue to function in the building meant that Travis would be sanitizing door handles HOURLY.
Travis was hired in February as a Maintenance Custodian but has yet to fully function in that role as his primary job has been sanitizing the building… daily! Neala is cleaning the building…constantly. It also meant that Kyle and his team had to shift from a culture of saying "yes" to ministry campaigns and cultivating a culture of experimenting in ministry to a mindset of saying "no" first. This was difficult for the team as one of the things they loved being part of was seeing ministries experiment with new ideas and helping them make that happen.
If that wasn't enough to make you sweat for them, the team has also used this time to conquer an on-going 'to-do' list that usually had to compete with ministry requests, and daily upkeep of the building. Brad chuckled as he shared that 500 LED lights have been installed and 400 more are to come on that mega sized 'honey-do' list. There are construction loose-ends they are still overseeing, daily sanitizing, and a regular amped up cleaning schedule. Answering the question on "how" and "when" we relaunch has been a large part of Kyle and his team's role too. The guidelines for places of worship was eight pages long. And because we offer more than just a place to worship six different documents were navigated to ensure all the AHS health orders and new protocols were followed. To make this happen the Facility Team has worked closely with all the ministries but especially the Community Life/Hospitality Team.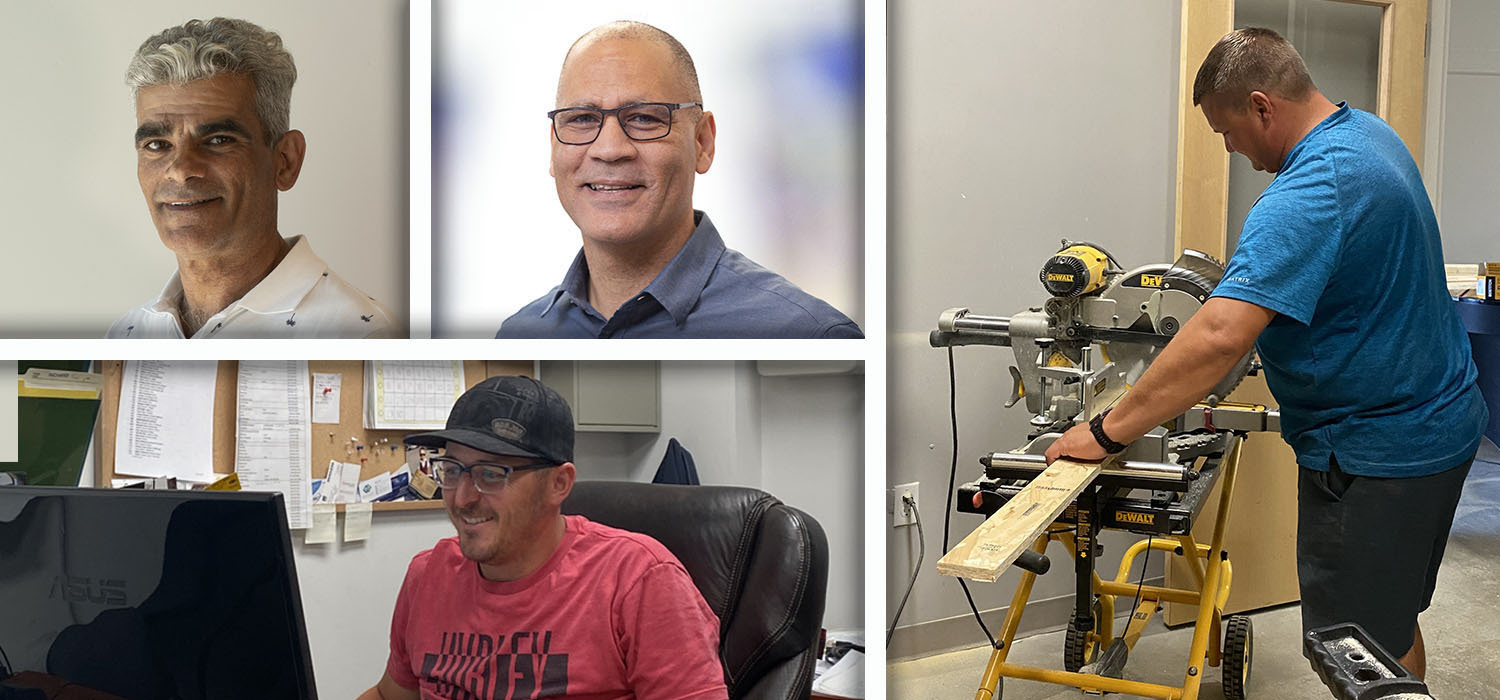 Kyle and his team are a gentle, humble, full of grace, and servant-hearted crew that have pivoted, adapted, and loved on us through their care of the building. They do this because they want to provide a safe place where we can continue to "hit our vision and mission of connection" to give everyone in Central Alberta an opportunity to have a personal relationship with Jesus Christ and by following Him together, compassionately impact our world. We can care for our Facility Team by doing a few simple things…take a minute and consider who cleaned the door handle you just used and thank them when you see them. Consider who will have to come behind you and sanitize a room as you stroll around the building. Choose to follow the protocols because they have been created for you - not to hinder you but to care for you.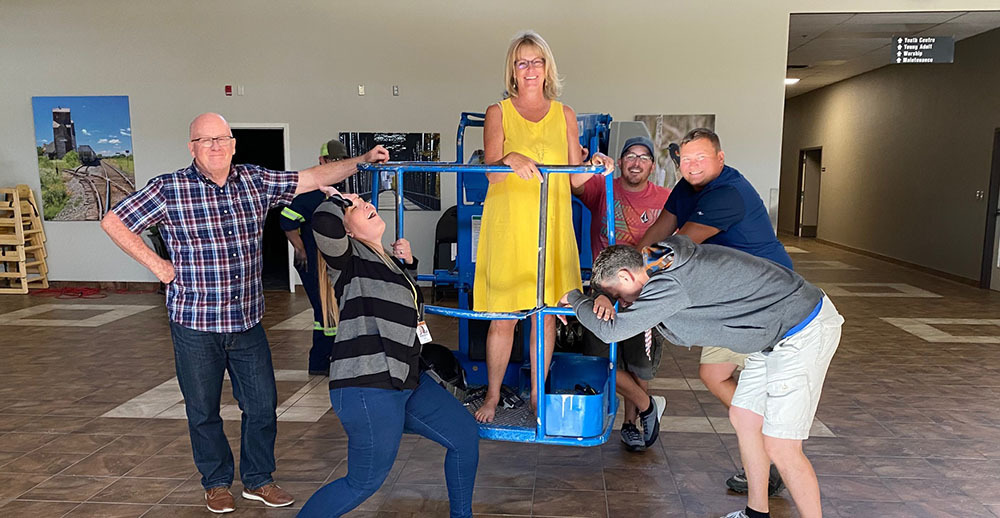 ---
**Updates since this article was written.

We are so happy to announce that we have welcomed a few team members both new and returning to our dedicated Facilities Team: Brent Hamelin & Mark Alhaj. Our doors could not open without this team (both literally and figuratively - they have the keys!). There is so much they do that remains unnamed and perhaps largely unnoticed (as is their preference). But we would certainly notice if they weren't a part of this team. Their work during the week and on Sundays keeps us clean, updated, operational, and functioning at our best. Thank you!
---
We would like to say "Thank you" to Stacy Mattheis! Stacy is a dedicated member of our church family here at CrossRoads. She gives her time and gifts to many ministries including our Sunday services and we are grateful she took time listen, ask questions, and understand our Facilities Team. She gave us all a glimpse into the inner workings, day-to-day, and heart behind the team that cares so deeply and takes seriously the responsibility given to them with our facility.