Resources
Head. Heart. Hands.
Easter- unshakeable
This year, Easter looks a little bit different for all of us. We still hope you will join us online and enter into a time of worship and celebration for this season and the sacrifice God made for each of us. There are ways to participate and interact from in your home. Our Easter pages offer information on the importance of this season and a few things you can do at home to reflect, remember, and celebrate.
And don't forget to invite your neighbours! Below, we have provided a downloadable invite card to cut and hand-deliver to their mailbox or front door (feel free to add a personal touch!). As well, there will be posts on Social Media that we encourage you to share as an invite for hope; a message why Jesus matters.
*Download a printable pdf version here.
*Right click on the photo below to save and email as an invite

---
HELP a Neighbour!
You may have neighbours that are not able to get out and do the normal daily tasks. This is a great opportunity for you to reach out, see how they are doing, and offer to help them in different ways while respecting the governments mandate of social distancing.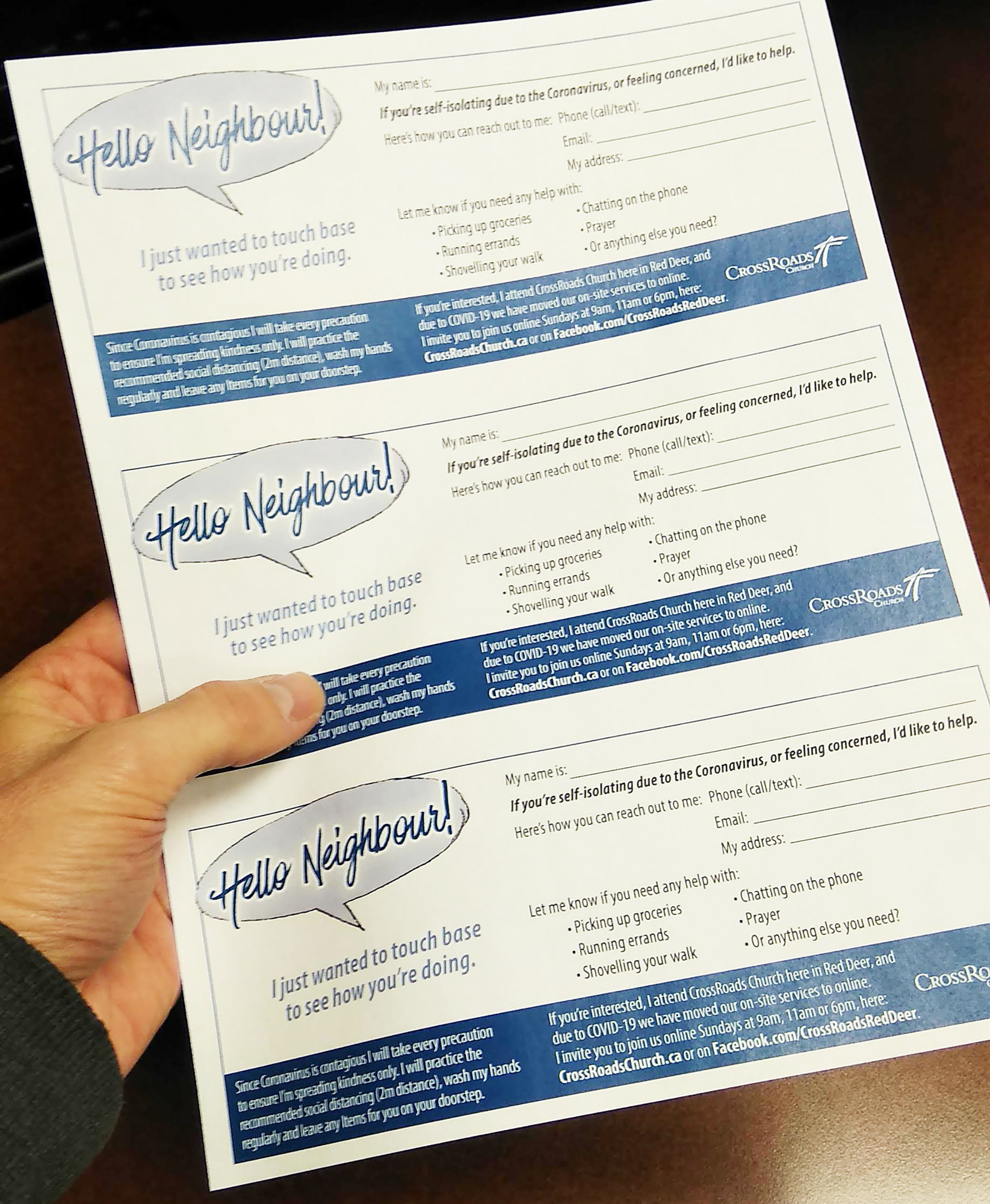 To make it simple, we've created a "Hello Neighbour" card that you can print off in your home and take around your neighbourhood. Prayerfully ask God to show you those in need and then trust that He will lead you and give you the courage to reach out.
There are two versions; one for individuals ("From ME" version) and one for families ("From Us" version), each with 3 cards per page. Download them here.
For those of you that may know your neighbours a little better or want to have a little extra fun, we have 300 individually wrapped rolls of toilet paper that these "Hello Neighbour" cards will fit around. It's a fun icebreaker to open the conversation with your neighbour. You will have to come to the main office at CrossRoads and request them. Limit 10 rolls per household (no hoarding ; )
And if you don't want to use the "Hello Neighbour" card that we've provided, feel free to create your own or buy a nice card and write an encouraging message for your neighbour. Don't forget to invite them to watch our Sunday services online!
---
Ministry Resources:
Sunday Service - live stream here.
Sunday Kids' Ministry - here.
Kids' Ministry Home Resources - Early Childhood, K-4, 56ers.
RightNow Media - Trying to process through all that is happening? Join us on RightNow Media.
---
Health Resources:
You can stay up to date with us!
We are actively monitoring the advisories from the Public Health Agency of Canada, the Government of Alberta and Alberta Health Services. Here are their website links if you'd like to do the same.
Canada.ca/coronavirus
CDC.gov/coronavirus
Alberta.ca/COVID19
Alberta Health Services
or on Youtube
https://www.youtube.com/playlist?list=PLvrD8tiHIX1L5LKwB0kl-4aJjkK4OuE-l
For mental health support:
text COVID19HOPE to 393939
---
Downloadable Resources:
Easter Invite

Easter Sunday Invite. Download, print, cut, and add a personal touch before delivering to your neighbour's door or mailbox.
Download (145KB)

Hello Neighbour - From Us

A great way to offer help to a neighbour that may need assistance. This version is written as from a group, using "We" and "Us" to identify your group or family. Download this pdf and print as many as you need!
Download (159KB)

Hello Neighbour - From Me

A great way to offer help to a neighbour that may need assistance. This version is written in first-person, using "I" and "Me" to identify you. Download this pdf and print as many as you need!
Download (160KB)