"Father forgive them..."
Pastor Dan Cochrane
---
Are You New to CrossRoads?
Welcome to CrossRoads Church! It's great to have you here. We'd love to meet you and give you some information to help get you connected. Visit us at the Connecting Point in the front foyer or text CrossRoads New to 393939. (Msg & data rates may apply) or click here.
---

---
Today at CrossRoads:
Backstage Pass Tour
Back by popular demand: it's the 'Backstage Pass Tour' If you'd like to know more about our space (youth, worship and tech departments) than we'd love to show you! Please meet at the 'Connecting Point' after each service for a 20-minute interactive site tour.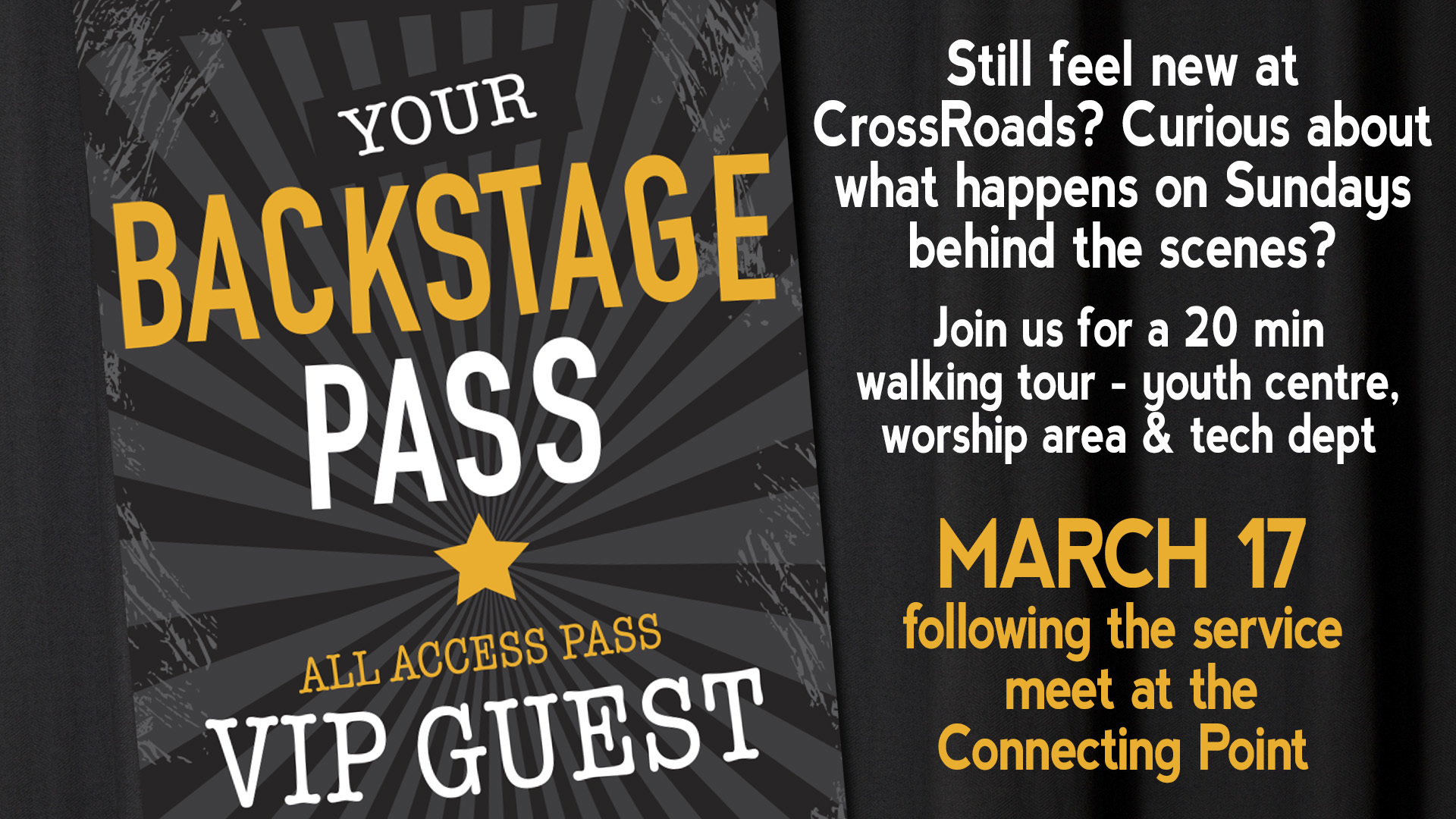 Faith at Home - Age 3 "Prayer"
Today at 9:00am, 11:00am and 6:00pm in the Chapel. If you are 3 years old (born in 2015), come with your parents and explore Prayer. There will be no regular classes for those born in 2015.
Baptism Information Sessions
If you are wanting to be baptized on April 14 or just want more information, join us following the service today or March 24, 31 or April 7. Meet at the Connecting Point for directions.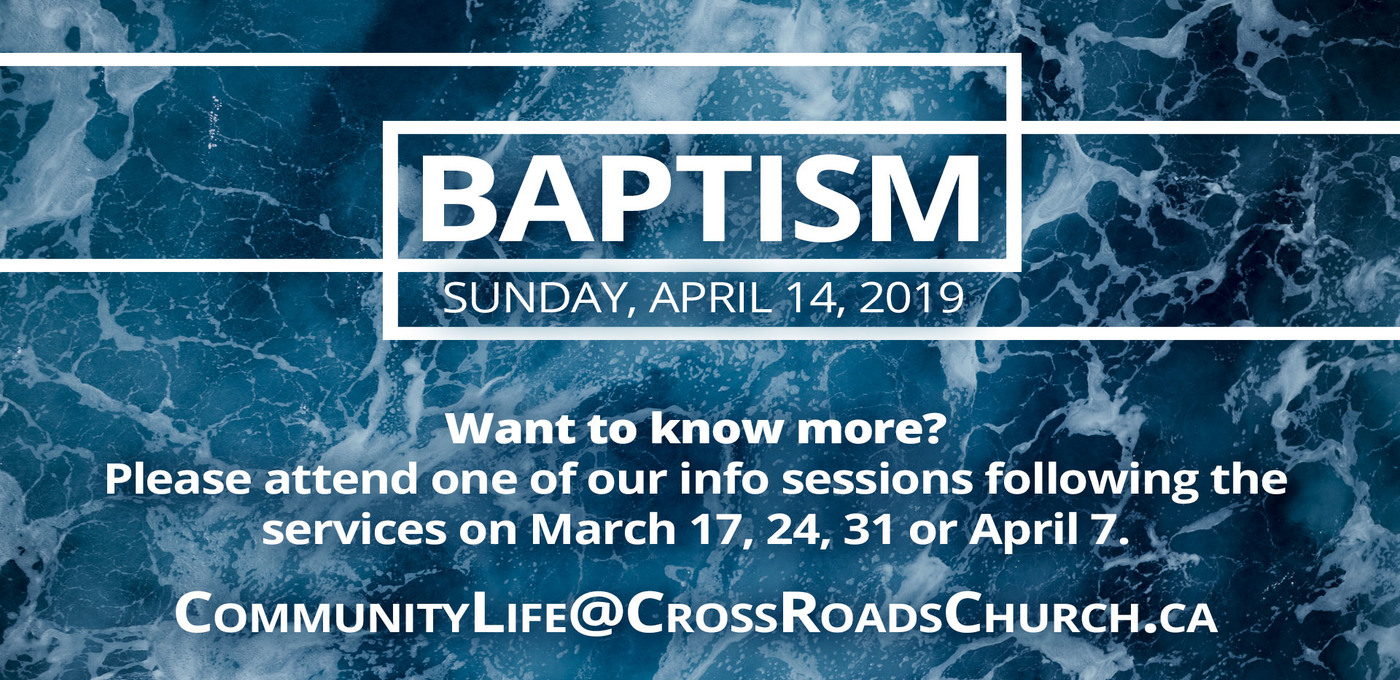 ---
A Day With... Mission and Culture Tour
Tuesday, March 19, 7:00 - 9:00pm - Theatre. Our denomination, EMCC, is forming a new strategy for their mission arm, World Partners. As part of this change, come hear from our national leaders as they present the proposed posture and strategic direction of World Partners, workers and development. This is your chance to understand and speak into this new direction.
Local Initiative Serve Opportunity
Big Brothers Big Sisters will be here on March 27 from 6:00-8:00pm in the gym for an evening of dodge ball and snacks. Come and join a great group of kids who are currently on a wait list for a mentor and spend the evening with them. If you have been considering mentoring in school or in the community or you would just like to make these kids feel welcome at CrossRoads and join in the games please come out.For more information and to register email LaurieW@CrossRoadsChurch.ca.
Soup 'n a Bun
Sunday, March 24 - It's only $2 and a chance to meet or re-connect with people within the 25-35 age category. Join us before the service at 5:00pm in the cafe and enjoy some homemade soup!
Faith at Home - Kindergarten
Sunday, March 24 at 9:00and 11:00am. Come with your parent and explore "Families of Compassion"
Will you go? Upcoming Short Term Outreaches
Uganda - Sept. 30 - Oct. 15, 2019 *apply by April 8, 2019
Haiti - Nov. 18 - 28, 2019 *apply by May 13, 2019
Rwanda - Feb 22 - March 5, 2020 *apply by August 5, 2019
Applications are available online or at the missions kiosk. For more info attend the Short Term Info Night. ChantelleS@CrossRoadsChurch.ca.
Short Term Outreach Info Night
Have you ever wondered what it would be like to join one of our teams to Uganda, Haiti and Rwanda? This will be your chance to see and hear about the opportunities to support and walk alongside our Global Compassion partners, hear from those who have gone before and ask any questions you may have. Monday, March 25, 7:00pm in the Trestle Room. Free food! Hope to see you there!
56ER SERVE SUNDAY
Our 56ers will be serving our church community in various ways during each service on Sunday, March 31. If you are a 56er and have not yet registered, registration closes March 27. Don't miss out!
Echo- Family Breakfast "Open House"
Please join us for some breakfast snacks on Sunday, March 31 between the 10am-11am in the youth cafe or at 5:30pm in the main cafe. We look forward to some fellowship and touching base as Jr. High Families.
Plan to Protect Training Luncheon
Want to Serve our Littles in Infant Care and Pre-K? We invite you on Sunday, March 31, to join us for our mandatory Plan to Protect Training. This will be in the Trestle Room (located in the Children's wing) at 12:30pm (right after the 11am service). A light lunch will be provided as we present our Plan To Protect policies. Contact Marcia at MarciaB@CrossRoadsChurch.ca for more information.
Mission of God's People
As we read through the book of Mark during Lent, we're learning about the life and ministry of Jesus. Join Pastor Denise on Monday, April 1 at 7:00 pm in the Trestle Room for a discussion of the cultural background of the New Testament, the biblical world Jesus was a part of, and some of the specific things we've been reading about in Mark. We will look at how God's mission revealed itself through Jesus, and what it looks like for us to be His disciples on mission today.
Empowered to Connect
April 5 & 6 Come experience practical teaching in a safe and supportive community as we work to equip families, churches, and professionals to better serve children impacted by adoption and foster care. More info at www.CrossRoadsChurch.ca/ComingEvents
Engaged Encounter
April 12 - 14 Camp Silversides, Gull Lake. Engaged Encounter helps you prepare for your life together after the wedding. More info at www.CrossRoadsChurch.ca/ComingEvents
Junior High Spring Retreat
Join us for a Spring Retreat! We will be joining in on some Red Deer serving opportunities, but also playing games and digging into God's word. (Matthew 7:7-12) Friday, April 12 @ 7pm till Saturday, April 13 @ 6pm at the Youth Centre. Cost: Earlybird $40 (Feb. 28-Mar. 24) ; $50 (Mar. 25-Apr. 7) Register here.
On Saturday we will be having a Family Feast where we invite all families to join for a meal. There is a $5/per person cost and we ask that you register your ADDITIONAL family members at www.crossroadschurch.ca/JRHighSpringRetreatFamilyFeast.
Alpha - Who Will You Invite? Spring Alpha.
All are welcome! Tuesdays beginning with dinner at 6:30pm. April 16 – June 25. A series of interactive sessions where everyone, but especially our family, friends, and neighbours are invited to explore the basics of the Christian faith. Each session looks at a different question and is designed to create conversation. There's no pressure, no follow-up and no charge; it's just an open, informal, and honest space to explore life's big questions together. Invitations can be picked up at the Connecting Point. CommunityLife@CrossRoadsChurch.ca for more info.
Sock Wars
April 15 Moms, take your pre-k boy out for an exciting adventure! Monday, April 15 at 6:30pm we will have fun and games in the gym. Snacks provided. Cost is $7.50 each person. Registration is required. www.CrossRoadsChurch.ca/ComingEvents
Passover Seder Dinner
Join us for the Passover Seder Dinner on Thursday, April 18 at 6:00 p.m. in the Chapel. As we celebrate this biblical holiday, we'll learn about its significance in remembering the Exodus from Egypt, and we'll also see how Jesus brought amazing new meaning to this meal at the Last Supper with His disciples. This is an awesome time of food, fellowship and celebrating God's faithfulness. Can't wait to see you there! *** If you'd like to know more about doing your own Passover meal at home with your family this year, check out the resources we have available online. www.crossroadschurch.ca/Passover
Family Camp
Mark your calendars - August 8-11, 2019. Do you want to get away from all the distractions of everyday life? We would love to have you and your family join us at the annual FAMILY CAMP EXTRAVAGANZA!! Come and enjoy God's creation, meet new friends and be embraced! Family focused camping with rock climbing, hiking, worship. There's something for all ages! Can't wait to see you there!! @Kootenay Plains $110/RV or tent for all 3 nights. Registrations will open next week. For more information contact Katie at brownell@telus.net
56ers Foosball!
Do you have a solid and sturdy foosball table just sittin' around, desperately wanting to be well used? We've got a spot for it! Contact Karli at karlih@crossroadschurch.ca.
Summer Student Hire
We are looking to hire a Children's Ministry Summer Student. The position profile can be found at www.crossroadschurch.ca/employment. Submit your resume to Bobbi at BobbiK@crossroadschurch.ca. Closing date for applications is April 10.
Read Through the Book of Mark
During the season of Lent (March 6-April 20), we will be reading through the book of Mark in the Bible together! As we prepare our hearts for the Easter season, we want to re-familiarize ourselves with Jesus' story -- His ministry, teaching, death and resurrection. Our reading plan suggests about 20 verses a day in order to read all of Mark by Easter. Pick up a Mark reading plan at the Connecting Point at church or find it at www.crossroadschurch.ca/Lent
Lent - Fasting
During the season of Lent, consider joining us on Fridays in practicing specific fasts. You may want to join for just one, or maybe for all of them. We enter into this, not as a way of punishing ourselves or earning grace, but as a recognition that God is the one who supplies all of our needs. We rely on Him for every breath. It is in Him that we "live and move and have our being" (Acts 17:28). See below for our planned fast for this coming Friday.
Friday, March 22: Put away Facebook, Twitter, Instagram, SnapChat, Pinterest, etc. for the day. Not only will your screen time go down, but your anxiety might as well. Whenever you reach for your phone today, consider saying a short prayer for God's peace in your life instead.

Hearing Impaired or Arabic Translation
We are pleased to let you know that we know have wireless streaming for live services directly from your smartphone/tablet while you are in the church. All you need to do is download the "Audio Everywhere" app and connect to the CRPublic wifi. This will allow you to participate fully without noisy distractions or language barriers. Be sure to bring your own earphones.
Stay Active Summer is drawing closer…can you feel it?
We are looking for help to create spaces for anyone from CrossRoads who'd like to stay active this summer. It's the perfect time to start up a group that walks together or prays together or runs together or bikes together or hikes together or gardens together and more! Let's do a little creation care mixed with soul care at the same time. Curious about how to get started? Connect with us today and let's make this the best and most active summer ever. communitylife@crossroadschurch.ca.