Set Free by a Word
Next Week: Matthew 9:1-8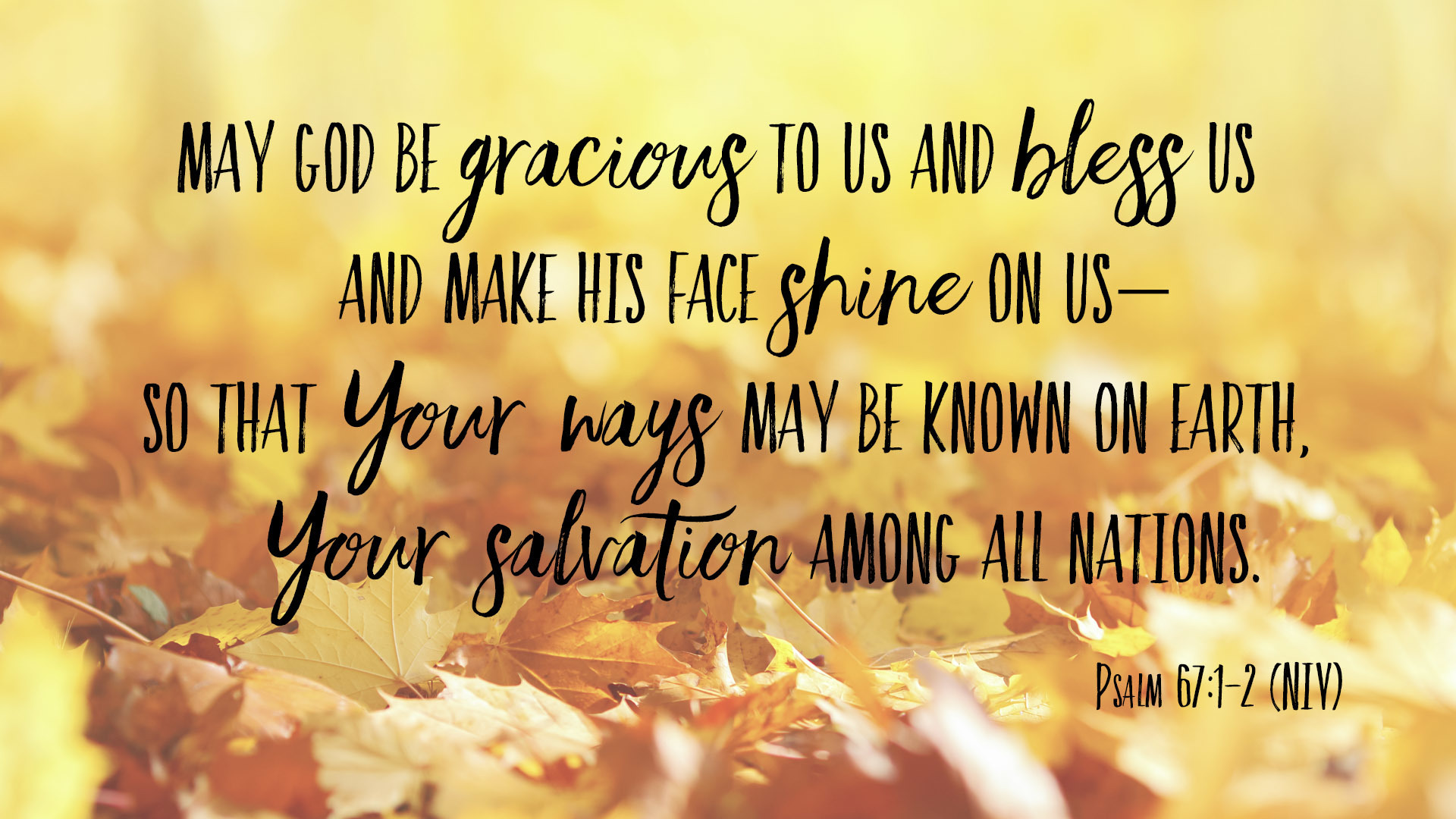 New to CrossRoads?
Welcome to CrossRoads Church! It's great to have you here. We'd love to meet you and give you some information to help get you connected. Visit us at the Connecting Point in the front foyer or text CrossRoads New to 393939. (Msg & data rates may apply) or click here.
---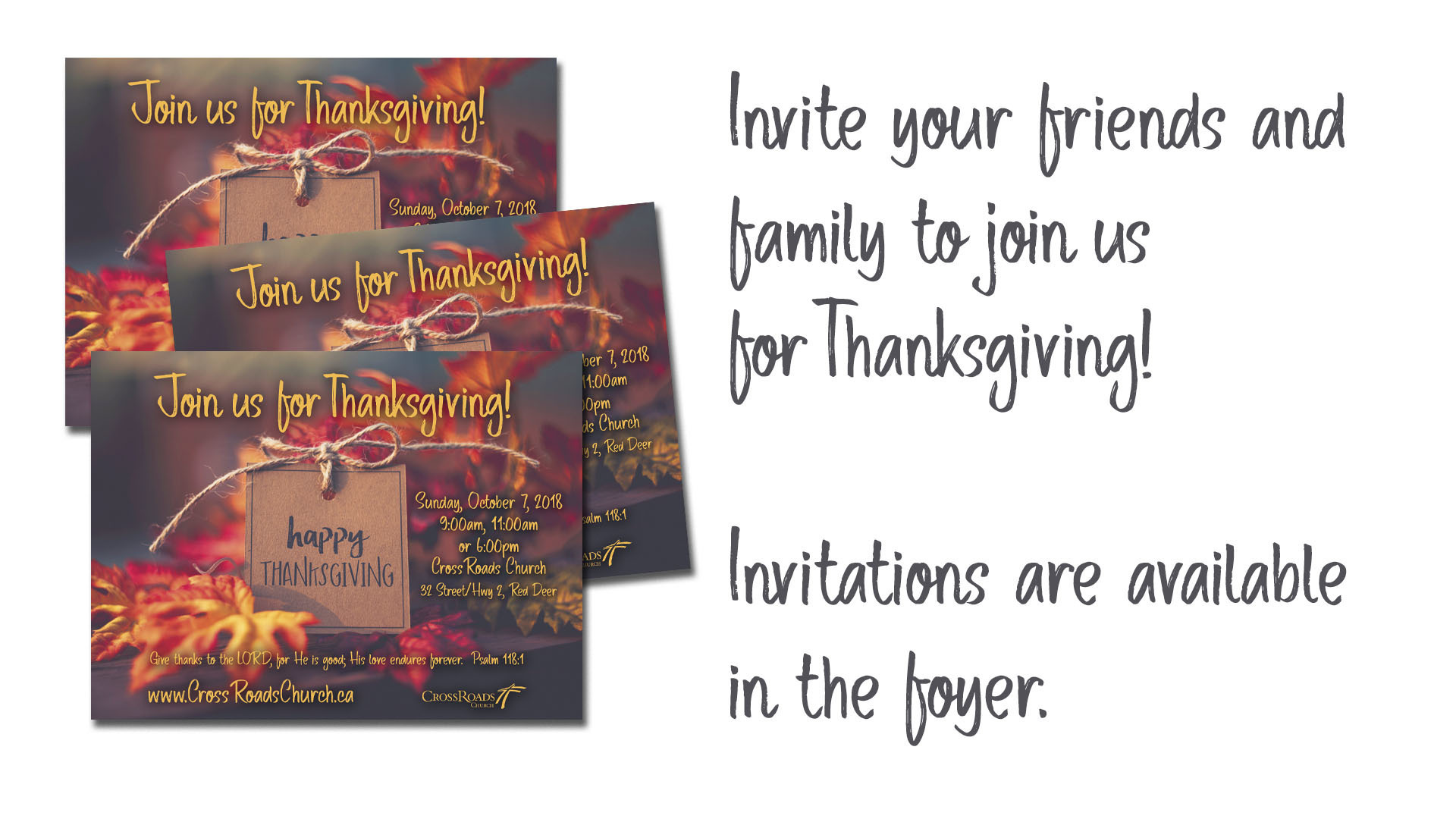 ---
The Bible's Thanksgiving Celebration
As we prepare for Thanksgiving, it's a great time to recognize the biblical holiday God gave His people to remember and celebrate His faithfulness. Sukkot is a week-long harvest celebration in the Bible, and a time to thank Him for His provision. To learn more about this holiday, how it connects with Thanksgiving, and what you can do to celebrate with your family and friends, check out the CrossRoads Core blog (https://core.crossroadschurch.ca) and the CrossRoads Facebook page.
Thanksgiving Muffins and Cookies in Cafe
Next Sunday between morning services, muffins and cookies will be available for purchase at the Cafe. Come and enjoy a Pumpkin Spice Latte!
---
Phase 4 Information Meeting
We invite you to join us as we discuss the plans for Phase 4 - TODAY! at 12:30pm (lunch provided) in the Chapel.
The Building Committee will present details on the plans and give opportunity to ask questions. The Church Board will present recommendations to the congregation in preparation for a Special Meeting of the Congregation on October 24. Your continued prayer support is greatly appreciated.
---
The Mission of God's People
First Monday of every month, beginning October 1 at 7:00pm in the Trestle Room, Please register for the group online at www.CrossRoadsChurch.ca/groups but know that you can drop in any time!
Church Sponsored Syrian Family Support Group
Tuesday, October 2 at 7:00pm in the Board Room. Do you have a heart for the refugee? Our second sponsored family will likely be arriving within the next three months. This is a unique opportunity to walk with this family through their first year as a Canadian. There are many facets to this task - come see which one suits you.
Communion Sunday
Next Sunday we will be celebrating the Lord's Supper being served in the pews. It will be Gluten-Free.
GEMS Seniors Luncheon
Tuesday, October 9 at 12 noon. Featuring: the singing group, For the Son. $10 each.
Rwanda Update with Moses
Wednesday, October 10 at 6:30pm in the Worship Room. Come welcome Moses back to Canada! He will be giving a brief update on what God is up to in Rwanda, and will have a generous time of Q&A. Snacks provided.
FOCUS
(Focused On Christ. United as Singles) is hosting a FRIENDSGIVING meal on Saturday, October 13 in the Fireside Room at 6pm. Bring a friend or invite others to join you! Text Twilight at 780-228-8282 or email taylorgt@telus.net to confirm. $5 for the meal.
Thrive Kickoff
Bring your favourite dish for brunch. Wednesday, October 17 at 9am -11am in the chapel. Welcoming woman of all ages and stages to an exciting new program. Meeting monthly to build spiritual friendships. Cost $5 /Latte $3.
Single Moms Fellowship
Friday, October 19, 6:00pm. Come and learn about resources for single moms. Dinner and childcare are provided. We will also have a free women's clothing/shoe fair that evening. If you have women's wear to donate, please bring it. If you don't have anything to bring, don't worry, you are very welcome to participate, there will be lots. Please register on the FaceBook page or text/call Mary Dias at 587-876-8302.
Junior High Fall Camp - "Greater Than, Less Than"
Camp is an awesome place to grow closer to God and closer to one another. Be prepared for fun, food, and friendships. Register at www.CrossRoadsChurch.ca/ComingEvents. $105 Oct. 20-21, 2018 at Camp Silversides. Busing included. Questions? Email KarleenH@CrossRoadsChurch.ca.
Meet and Greet // Pickles and Ice Cream
Monday, October 22 at 7:00pm in the Cruiser's Room. Mom's with babies on the way and mom's that have had a baby in the previous year... come and enjoy adult company and an ice cream treat!
Equip
Saturday, October 27 Learn and Grow Together. This day will provide an opportunity for us to grow and learn together as a church body. This season's Equip sessions are based on the 20 Conversations on Following Jesus booklet. Choose from a variety of seminars to help strengthen your faith, understanding, and ability to share Jesus with others. More info at www.CrossRoadsChurch.ca/Equip.
Engage
Saturday, October 27 9:00am - 12:30pm, Trestle Room. Join us to learn about CrossRoads and what it means to be a member of our community. Includes lunch. Space and childcare are limited. To register, email Michele at MicheleR@CrossRoadsChurch.ca.
56er Family Event
Saturday, October 27 at 5:30pm in the Youth Wing. This event is for 56ers and parents; no siblings please. $5 per family. Visit our K-6 page to register.
Glorify
A night of worship and encouragement for women in the Youth Centre on Tuesday, October 30. The evening begins at 6:45pm with desserts and fellowship and will move into worship and testimonies as the evening progresses. No cost, no ticket required! Just come!

Daddy Daughter Date Night / Jesus is our Super Hero
Monday, November 5 at 6:30pm in the Chapel. Dads, come with your pre-k daughter and enjoy activities and a yummy snack. Register at www.CrossRoadsChurch.ca/ComingEvents.
Fight Night
Wednesday, November 7, 6:30pm. An exciting simulcast event hosted by Dr. Les and Leslie Parrott. It's a 2.5 hour "date night" that consists of two rounds: 1) Why we fight with the person we love the most? 2) How to fight with the person we love the most?When you know how to fight a 'good fight', conflict becomes the price we pay for deeper intimacy. Fight Night ensures that every couple leaves the event with new tools to bring them closer together - tools they can use immediately. It's humorous. Authentic. Practical. Relevant. And did we mention that it's fun?!!! $10 each. Register at www.CrossRoadsChurch.ca/ComingEvents.
---
Please Pray for the Uganda Team
The team of six left for Uganda on September 27; please pray for safety, for health, for team unity and for them to be open to what the Lord has in store for them. Lift up this team as they represent CrossRoads Church to our partners there. They will be visiting sponsored children; pray for blessings during those encounters. They will also be visiting schools and the construction site of the new Girls Dormitory that is being built. Thank you!
CrossRoads Celebrate Recovery
A recovery program for any adult with any hurt, habit or hang up that they would like to address. Consider yourselves invited to join us in the Café - Friday nights beginning with dinner at 6:00pm or the main session in the Chapel at 7:00pm. Celebrate Recovery has had a positive effect on hundreds of people since bringing it to CrossRoads in January of 2009. Child care is available. Learn more at www.CrossRoadsChurch.ca/celebraterecovery.
Groups Available!
You can check out our fall semester of open groups online now! View and register today at
www.CrossRoadsChurch.ca/Groups.
We are short one... You!
WE NEED YOU! We already have everyone else but YOU. We are short ONE­–YOU. The babies of CrossRoads need YOU to come for the 6:00pm service to bless them in a way only YOU can. They need a minimum of 12 YOU's to help out once a month. Thanks for being YOU. Please contact JaqiT@CrossRoadsChurch.ca.
Communion Prep
If you are looking for an important, yet behind the scenes, way of serving, please consider helping in the area of Communion prep, with the cutting of the bread. We are looking for one person to join our team. Please email Wilma at WilmaV@CrossRoadsChurch.ca.
Caring For The Caregiver
This group is for caregivers of all ages. If you have a special-needs person in your life, this is a place to come for community, understanding, resources and support. For more information please contact Natasja at natasja.willms@gmail.com.
We're Hiring!
We have an opening for a part-time Food Services Assistant who will work out of CrossRoads commercial kitchen. If you have a love for and experience in building recipes and building community, please see our website at www.CrossRoadsChurch.ca/employment for more details.
Financial Update
If you are curious about the budget details for last fiscal year (Aug 1, 2017- July 31, 2018) or the 2018-2019 budget, please visit www.CrossRoadsChurch.ca/finance. For any questions regarding finances or budget please feel free to contact Bobbi Kroeger at BobbiK@CrossRoadsChurch.ca or 403-347-6425.
Giving is easy! Two clicks and you're in!
Ever wonder how many options there are to give to the church?
1. Online through our website - you can use MasterCard or Visa.
2. Debit/credit card at the Connecting Point.
3. Automatic debit from your bank account.
4. Direct payment through your bank - just like paying a bill.
5. Numbered offering envelopes for cash or cheques.
For more information please go to www.CrossRoadsChurch.ca/Giving or contact Charlene Young at CharleneY@CrossRoadsChurch.ca.