Baptism
Next Baptism: (Postponed)
A Step of Obedience
At CrossRoads Church, we believe that baptism is a step of obedience for those who follow Jesus. It is a way for us to publicly declare that we acknowledge Jesus as Lord and are committing our lives to walking in His way.
Baptism is not necessary for salvation—it is only faith in Jesus Christ and recognizing our need for Him that saves us. As Jesus said, "I am the way and the truth and the life. No one comes to the Father except through me" (John 14:6).
However, baptism is something Jesus commanded. It is a way for us to obey Jesus as we follow Him.
Jesus told His disciples, "If you love me, keep my commands" (John 14:15). Our love for God is demonstrated through doing the things He asked of us. In this case, Jesus' last command to His disciples is related to baptism.
"Therefore go and make disciples of all nations, baptizing them in the name of the Father and of the Son and of the Holy Spirit, and teaching them to obey everything I have commanded you. And surely I am with you always, to the very end of the age" (Matthew 28:19-20).
Pastor Dan Speaks on Baptism
If you are interested in being baptized, we encourage you to view Pastor Dan's video message below. It's a great resource for helping you better understand what baptism is all about.
Ready to take the plunge?
Let's sit down and have a conversation. There are a few ways we can do that:
Attend one of our upcoming group sessions - TBA.
Call the church office (403.347.6425) and set up a time to talk individually with one of our staff.
Send us an email at CommunityLife@CrossRoadsChurch.ca
We'd love to answer any questions you have as you continue to contemplate this decision.
If you're under the age of 18, our Family Ministries Team would love to talk with you. We've provided a kids booklet (the Big Splash booklet) that you can download and go over with a parent prior to meeting with one of our pastors. Here's who you should contact:
Grade 12 Students – contact Pastor Rob
Grade 9-11 Students – contact Pastor Rob
Grade 7-8 Students – contact Pastor Dave
Elementary Kids – contact Pastor Jordan
Want to learn more?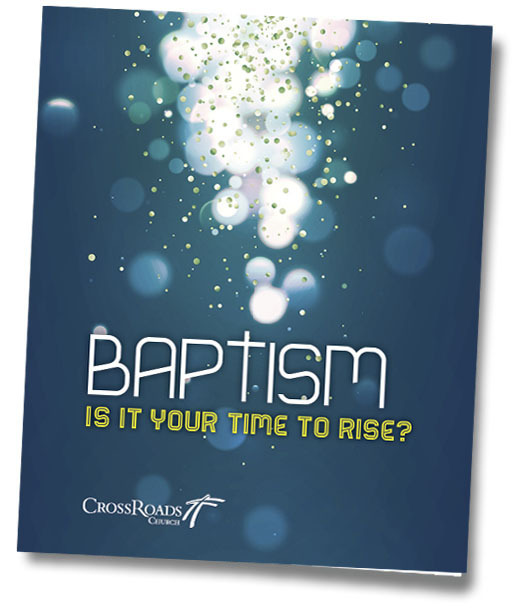 We've put together a baptism booklet that will provide the additional information you may need to know to make your decision.
NEXT BAPTISM SUNDAY: APRIL 5 (PALM SUNDAY)