Compassion Campaign

What is the Compassion Campaign?
Each year on Christmas Eve, CrossRoads Church allocates 100% of all offerings and gifts towards our relief & community development efforts. This work is done through our trusted partners in Haiti, Uganda, Rwanda and right here in our very own city and region.
In the same way God gave His Son to us, we give our gifts to others. We call it the Compassion Campaign.
We would love for you to participate: you can join us in prayer, volunteer, go on a short term outreach, or you can give a financial gift that will cause ripple effects across generations.
Compassion Campaign Booklet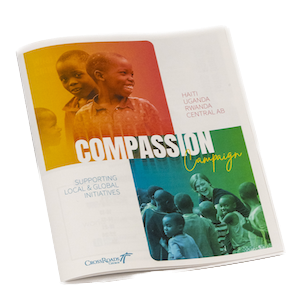 The Missions staff at CrossRoads have compiled updates from our Local and Global Partners, along with prayer items, stories and more! Pick yours up at a Sunday service or anytime throughout the week in the main Foyer or Missions Corner in the Café. Or, download a PDF copy here.

This guide is useful and available year-round, so if you missed it during the Christmas season, you can still use the booklet in your daily prayer and devotion time as a way to support our partners throughout the year!
Ways to Give
< these envelopes are available in the church for cash or cheque donations
Debit / Credit is accepted at The HUB on Sundays, or at the Church Office weekdays from 8:30am - 4:30pm
E-transfer to: giving@crossroadschurch.ca (Please specify "Compassion" and your mailing address in the notes if you would like a donation receipt)
2022 Global Partner Interviews
Haiti Arise | World Relief, Rwanda | Int'l Needs, Uganda
Sunday, December 4

2022 Local Partner Interviews
Hope Mission | Outreach Centre | Central AB Youth Unlimited
Sunday, December 18

2021 Compassion Campaign
Last year, we we published several videos to show all that our partners are doing locally and globally to spread the hope, love and compassion of Christ in their communities.
Interview with Honorats - Sunday, December 19, 2021
Overview of our 2021 Compassion Campaign
We are grateful for each of you who have supported our 2021 Christmas Compassion Campaign in prayer and giving. We were blessed to have received a total of $275,767.96 for the support of our Local and Global Compassion Partners.
92% of funds raised go direct to partners and projects: Haiti, Uganda, Rwanda, Hope Mission, Central Alberta Youth Unlimited, Outreach Centre, and other local opportunities.
5.5% goes to Admin/Other: local training, resources, advertising, supplies, Global for Monitoring and Evaluation, etc.
2.5% goes to subsidies for teams (global short-term outreaches)