Marriage
Pastor Dan Cochrane
Join us for our live services at 9:00am, 11:00am or 6:00pm!


Celebrate with us and the families of those who are dedicating their little ones to Jesus today in the Chapel at 9:00am!
23 The man said, "This is now bone of my bones and flesh of my flesh; she shall be called 'woman,' for she was taken out of man." 24 That is why a man leaves his father and mother and is united to his wife, and they become one flesh. 25 Adam and his wife were both naked, and they felt no shame.
Genesis 2:23-25 (NIV)
New to CrossRoads?
Welcome to CrossRoads Church! It's great to have you here. We'd love to meet you and give you some information to help get you connected. Visit us at the Connecting Point in the front foyer or text CrossRoads New to 393939. (Msg & data rates may apply) or click here.
February Prayer
Dear Father, this month we have a chance to recognize and celebrate families in our province. We ask You to strengthen marriages; give husbands and wives compassion and love for one another. We pray that You would come alongside single parents and grant them wisdom as they raise their children. Surround them with support and comfort. We pray for children who are split between two families—please give them peace and hope.
Lord, we pray that You would turn the hearts of parents toward their children and children toward their parents. Strengthen families so that children grow up to know peace, stability and, most importantly, the truth of who You are and what You've done. We pray these things in the name of Jesus, amen.
"He will turn the hearts of the parents to their children, and the hearts of the children to their parents; or else I will come and strike the land with total destruction." Malachi 4:6
News and Events
February 13 - GEMS Luncheon Everyone welcome to GEMS February Luncheon featuring the music of Crystal & Herb Taylor. $10/person. 12:00 noon in the Chapel.
February 16 - Single Moms Fellowship Evening Dating Relationships – Scary topic? Are you ready? What are your boundaries? Join us for an evening of discussion and exploring wisdom with Alana Peters. Please register on the FaceBook page or if you are new call Mary at 587-876-8302. We meet in the front foyer at 6:00pm. Dinner and childcare are provided. We look forward to seeing you!
No ECHO - February 18 (Family Day Weekend) Please note that Echo students will remain in the services with their families on this Sunday. It will resume on Feb 25.
February 21/22 - Thursday Night Live Need something to look forward to post-Christmas and pre-spring? Come enjoy original music by members of our worship family at our third annual Thursday Night Live! Choose between two identical nights: Wed. February 21, or Thurs. February 22, with Chapel doors opening at 7:00 pm. Tickets for this coffee house style event are $10 per person and include light appetizers, beverages and entertainment. Purchase your tickets today at Ministry Lane before they're gone!
February 25 - Faith at Home - Grade 2/Parents Mark your calendar because you won't want to miss the Grade 2 Faith at Home event called Family Devotions. Parents and their children will join Pastor Barry Oram in the Grade 2 classroom.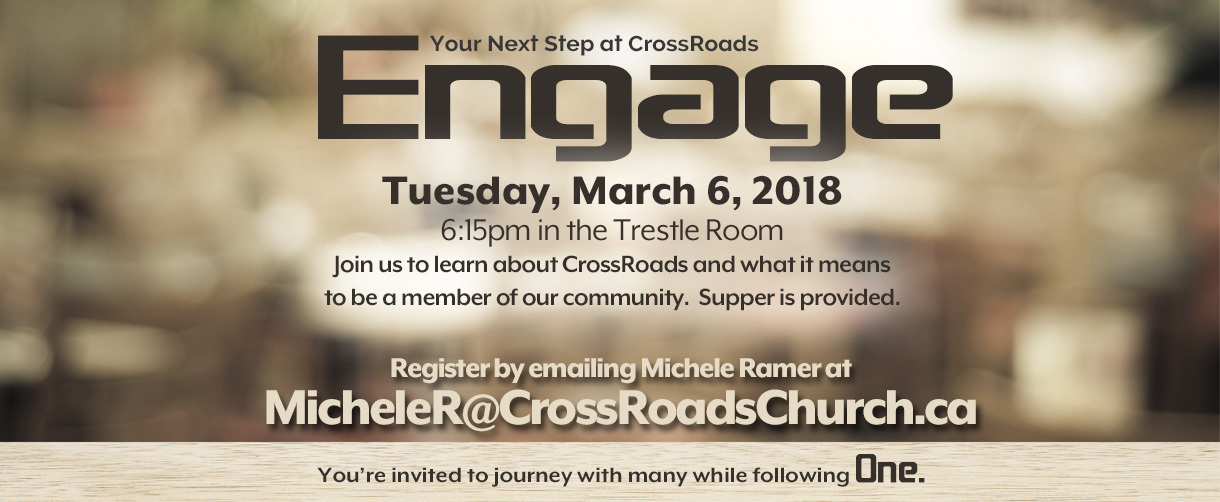 March 6 - Engage Event Join us to learn about CrossRoads and what it means to be a member of our community. Supper is provided and space is limited. (Childcare not provided) 6:15pm in the Trestle Room. Register by emailing Michele Ramer at MicheleR@CrossRoadsChurch.ca.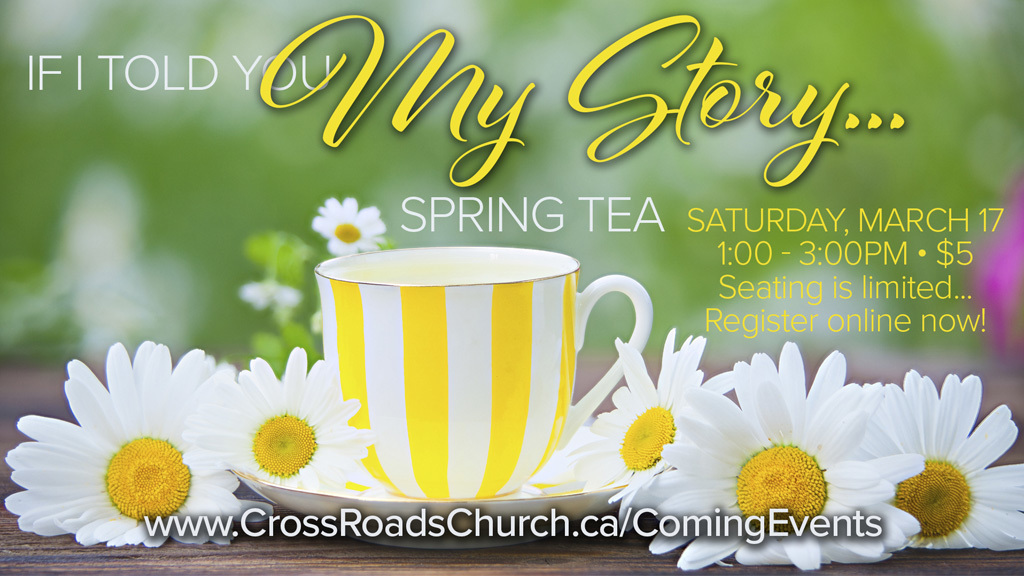 March 17 - If I Told You My Story... Spring Tea Ladies, we'd love to see you at the Spring Tea. Join us in the Chapel on Saturday, March 17 from 1:00pm to 3:00pm. We will have three guest speakers that will share their personal stories of their walk with God. Cost is $5 per person, payable at the door. Seating is limited so register now!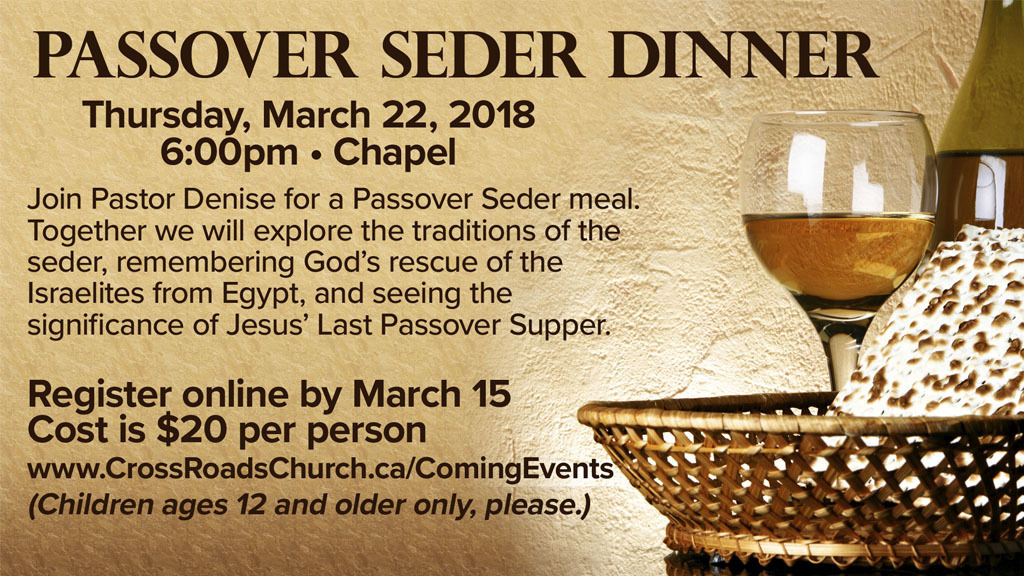 March 22 - Passover Seder Dinner Join us for a Passover Celebration! Jesus' Last Supper with His disciples was a Passover Seder, a meal where the Jewish people remember and celebrate how God rescued them from slavery during the Exodus. When Jesus introduced communion, He used elements from the Passover that held great significance to God's great story of salvation. Understanding the Passover brings even greater meaning and joy to what Jesus did for us at Easter. Join us in the chapel on Thursday, March 22 at 6:00pm for a Passover meal and a chance to learn, participate and celebrate together! Register online. $20 For more information, please contact DeniseS@CrossRoadsChurch.ca with any questions.
April 27-29 - Engaged Encounter Weekend at Camp Silversides. $250/couple. For more information go to www.CrossRoadsChurch.ca/marriageprep.
June 8 - 10 - Marriage Enrichment Weekend Watch for online registrations to open in April. For more information about the weekend, go to www.CrossRoadsChurch.ca/marriage.
June 22 - 23 - Beth Moore Conference CrossRoads has a block of tickets for the Beth Moore Conference in Calgary on June 22 & 23. Cost is $75/ticket and does not include accommodations or travel. If you would like to reserve a ticket with the CrossRoads group please contact Ginny Cochrane on the Facebook page "Crossroads Women" or by email: ginnycochrane@hotmail.com.
Blackfalds & Lacombe - If you live in and around these areas and attend CrossRoads, there are Facebook pages for you to use as a tool to connect with others from your area who attend here too! Search CrossRoads - Blackfalds or CrossRoads - Lacombe and join today!
Worship Arts Tech Are you looking for a great place to serve? Do you have computer skills and are you willing to learn? We would really like to get to know you, as you join our worship team to project images and words on the screen to help facilitate worship through the pro-presenter program. Training will be provided! E-mail Dallas at DallasL@CrossRoadsChurch.ca.
GriefShare Ministry
GriefShare is a weekly ministry that reaches out to those who have experienced the death a spouse, child, family member, or friend. Begin your healing journey at GriefShare Tuesdays at 7:00pm in Room 108. You are welcome to start any Tuesday, as each session is self-contained.
Celebrate Recovery A recovery program for any adult with any hurt, habit or hang up that they would like to address. You are invited to join us in the Café Friday nights beginning with dinner at 6:00pm or the main session in the Chapel at 7:00pm. Celebrate Recovery has had a positive effect on hundreds of people since Pastor Stu brought it to CrossRoads in January of 2009. Child care is available. Come and see! Learn more at www.CrossRoadsChurch.ca/CelebrateRecovery
New Pastor of K-6 ministry and New Pastor of Student Ministry!!
After many months of searching and praying we have found new leaders for our K-6 ministry. Jordan Cavanaugh will be moving from leading Student ministry to leading K-6 ministry. Julie Cavanaugh has been leading this ministry in the interim and will lead the ministry together with Jordan when she returns from her maternity leave. We are really excited about the skills and passion that Jordan brings to our Children's ministry. We are also very excited to have a couple leading K-6 ministry together.

Robert Mudde will take over leading student ministries in addition to his current responsibility of young adults ministry. Robert spent many years leading Junior High ministry at CrossRoads before he led Young Adults ministry. Robert already cares for our youth and their families. We are very excited about this transition. This strong leadership will benefit our children, youth, and parents.

If you want to know more, please contact either Pastor Barry Oram (BarryO@CrossRoadsChurch.ca) or Pastor Shawn Hubert (ShawnH@CrossRoadsChurch.ca).
Heart Felt Thanks

During the month of February take a moment to stop by Ministry Lane and read some of the Thank you's from the schools that we are supporting with food and clothing this year. YOUR KINDNESS MEANS SO MUCH AND IS MAKING A DIFFERENCE.
"Thank you from the bottom of our Fairview Family hearts for the amazing clothing, mitts and shoes donation we just received from CrossRoads Church. Our students are so fortunate to have community members and a congregation that care so much for them."
Donations of clothing and food continue to be gratefully accepted. Email LaurieW@CrossRoadsChurch.ca for more information on how you can become involved.
Focus on Missions
February 15 - CrossRoads Sponsored Family Core Group Invitation The time has come! Our family will be arriving on March 7. This meeting will cover "what needs to be done when and by whom"; if you are a 'whom' or want to be one, we look forward to seeing you on Thursday at 7:00pm in the Trestle Room.
February 17 - Sledding & Skating with Newcomers Looking for a chance to connect with some newcomers in Red Deer? This is it! Bring your sleds and skates (extras if you have them) and join in the fun! Hot chocolate provided. 2:00pm at Mattie McCullough field (behind the elementary school) Want more info? brooklynn.capton@gmail.com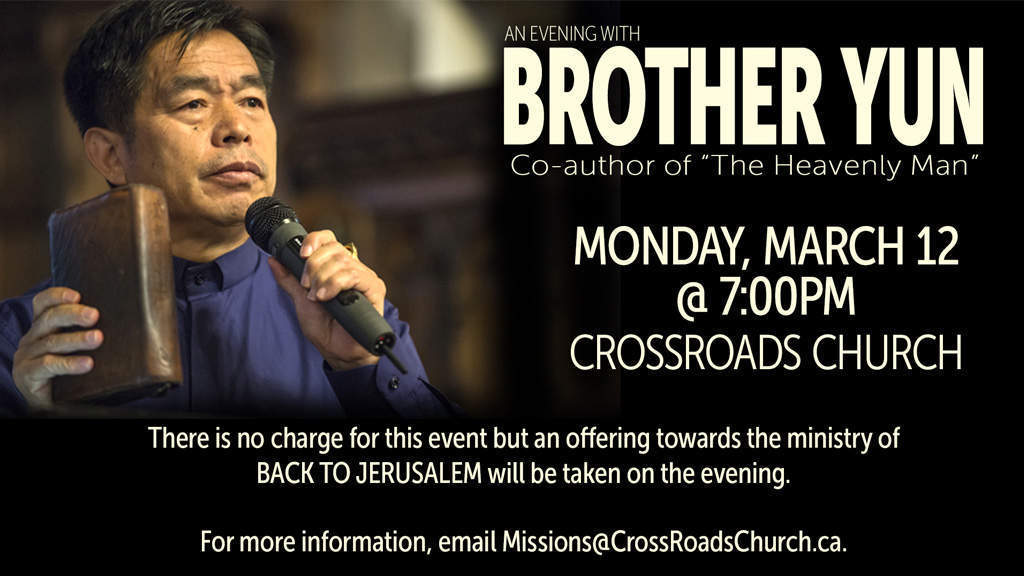 March 12 - Brother Yun Come hear a powerful testimony of conversion, persecution, miraculous escapes and how God speaks. Brother Yun is the co-author of The Heavenly Man. Don't miss out on this great opportunity to hear from this amazing man of God. March 12 at 7:00pm.
Short-term Opportunity in Greece 2018
Have you ever wondered what it would be like to walk alongside one of our missionaries? This summer you have the opportunity to partner with Andrew and Melissa Fletcher as they run a Refugee Family Camp in Porto Astro, Greece. Join them as they help reach refugees with a deep understanding of the Gospel and love of Christ. *Special request for doctors, nurses, lifeguards and those willing to do cooking and cleaning. June 17-22. For more information contact ChantelleS@CrossRoadsChurch.ca. Applications available online at www.CrossRoadsChurch.ca/ShortTermOutreaches or at the missions kiosk. Deadline: February 16.
Rwanda Team Please pray for the team that is now in Rwanda, that their time there would be fruitful, that their hearts would be open to what the Lord has for them to see. Pray for safe travels as they are returning on February 16.
Kairos Course Join pastor Tracy as she leads an interactive nine session Bible Study – See what God says about His plan for all people, on your street and around the world, and how you fit into this plan. Kairos is a study of the unchanging purpose and plan of God from Genesis to the end of the age. Focusing on the biblical, historical, strategic, and cultural dimensions of God's mission, this course creates space where you can realign with God's purposes. Offered in over 80 countries and 30 languages, stretching around the globe, Kairos is much more than a course–it's a movement. CrossRoads Church, Mondays, March 19 & 26, April 9, 16, 23 & 30, May 7 (7:00 –9:30 pm) & Saturday, May 12 (9:00 am—4:30 pm) COST: $99 early bird before March 5 • $125 after March 5 (subsidy available through Missions) Register at www.kairoscourse.ca • More information: www.kairoscourse.org.
---
Get the bulletin on your phone each Saturday night! Just text the word "Bulletin" to 393939. (Msg & data rates may apply)