Man and Woman
Pastor Dan Cochrane
Join us for our live services at 9:00am, 11:00am or 6:00pm!


So God created mankind in his own image, in the image of God he created them; male and female he created them.God blessed them and said to them, "Be fruitful and increase in number; fill the earth and subdue it. Rule over the fish in the sea and the birds in the sky and over every living creature that moves on the ground."
Genesis 1:27-28 (NIV)
New to CrossRoads?
Welcome to CrossRoads Church! It's great to have you here. We'd love to meet you and give you some information to help get you connected. Visit us at the Connecting Point in the front foyer or text CrossRoads New to 393939. (Msg & data rates may apply) or click here.
Today at CrossRoads:
Facilitator Lunch & Learn after the 11:00am service in the Chapel.
GCC 10th Anniversary Celebration Please come join in the celebration after each service in the cafe.
February Prayer
Dear Father, this month we have a chance to recognize and celebrate families in our province. We ask You to strengthen marriages; give husbands and wives compassion and love for one another. We pray that You would come alongside single parents and grant them wisdom as they raise their children. Surround them with support and comfort. We pray for children who are split between two families—please give them peace and hope.

Lord, we pray that You would turn the hearts of parents toward their children and children toward their parents. Strengthen families so that children grow up to know peace, stability and, most importantly, the truth of who You are and what You've done. We pray these things in the name of Jesus, amen.

"He will turn the hearts of the parents to their children, and the hearts of the children to their parents; or else I will come and strike the land with total destruction." Malachi 4:6
News and Events:
February 6 - MoMENtum Come out for a night of wings, worship and encouragement just for men! 6:45pm in the Youth Centre
February 8 - Junior High Youth A night of laser tag , games and more. Thursday, Feb 8 at LazerForce in Red Deer. Gr 7- Meet THERE at 6:30pm. Pick up at 7:45pm. Gr 8- Meet THERE at 7:30pm. Pick up at 8:45pm. The event is $20 and you can register online at www.CrossRoadsChurch.ca/grade7-8
February 10 - St. John's Babysitting Course in the Trestle Room from 9am-4pm. $30/person. *Must be 11 years old by Feb 28, 2018. Please bring: A baby doll, lunch (a snack will be provided), a water bottle. Contact Marcia at MarciaB@CrossRoadsChurch.ca to register.
February 13 - GEMS Luncheon Everyone welcome to GEMS February Luncheon featuring the music of Crystal & Herb Taylor. $10/person. 12:00 noon in the Chapel.
February 16 - Single Moms Fellowship Evening Dating Relationships – Scary topic? Are you ready? What are your boundaries? Please join us for an evening of discussion and exploring wisdom with Alana Peters. Please register on the FaceBook page or if you are new call Mary at 587-876-8302. We meet in the front foyer at 6:00pm. Dinner and childcare are provided. We look forward to seeing you!
February 21/22 - Thursday Night Live Need something to look forward to post-Christmas and pre-spring? Come enjoy original music by members of our worship family at our third annual Thursday Night Live! Choose between two identical nights: Wed. February 21, or Thurs. February 22, with Chapel doors opening at 7:00 pm. Tickets for this coffee house style event are $10 per person and include light appetizers, beverages and entertainment. Purchase your tickets today at Ministry Lane before they're gone!
April 27-29 - Engaged Encounter Weekend at Camp Silversides. $250/couple. For more information go to www.CrossRoadsChurch.ca/marriageprep
June 8 - 10 - Marriage Enrichment Weekend Watch for online registrations to open in April. For more information about the weekend, go to www.CrossRoadsChurch.ca/marriage.
June 22 - 23 Beth Moore Conference CrossRoads has a block of tickets for the Beth Moore Conference in Calgary on June 22 & 23. Cost is $75/ticket and does not include accommodations or travel. If you would like to reserve a ticket with the CrossRoads group please contact Ginny Cochrane on the Facebook page "Crossroads Women" or by email: ginnycochrane@hotmail.com.
We're Hiring! We are looking for the right individual to fill the position of Pastor of K-6 Ministries as well as a position of Facility Host/Janitor. More information is available at the Connecting Point or online at www.CrossRoadsChurch.ca/employment.
Worship Arts Tech Are you looking for a great place to serve? Do you have computer skills and are you willing to learn? We would really like to get to know you, as you join our worship team to project images and words on the screen to help facilitate worship through the pro-presenter program. Training will be provided! E-mail Dallas at DallasL@CrossRoadsChurch.ca.
GriefShare Ministry
GriefShare is a weekly ministry that reaches out to those who have experienced the death a spouse, child, family member, or friend. Begin your healing journey at GriefShare Tuesdays at 7:00pm in Room 108. You are welcome to start any Tuesday, as each session is self-contained.
Heart Felt Thanks
During the month of February take a moment to stop by Ministry Lane and read some of the Thank you's from the schools that we are supporting with food and clothing this year. YOUR KINDNESS MEANS SO MUCH AND IS MAKING A DIFFERENCE.

"Thank you from the bottom of our Fairview Family hearts for the amazing clothing, mitts and shoes donation we just received from CrossRoads Church. Our students are so fortunate to have community members and a congregation that care so much for them."

Donations of clothing and food continue to be gratefully accepted. Email LaurieW@CrossRoadsChurch.ca for more information on how you can become involved.
Focus on Missions
The Syrian families we are sponsoring are coming! One family already has their tickets and depart February 22 and another should get them this week. We need a few reliable, friendly people who will help to welcome the families. Please contact Missions@CrossRoadsChurch.ca to find out what role you could play in this exciting journey!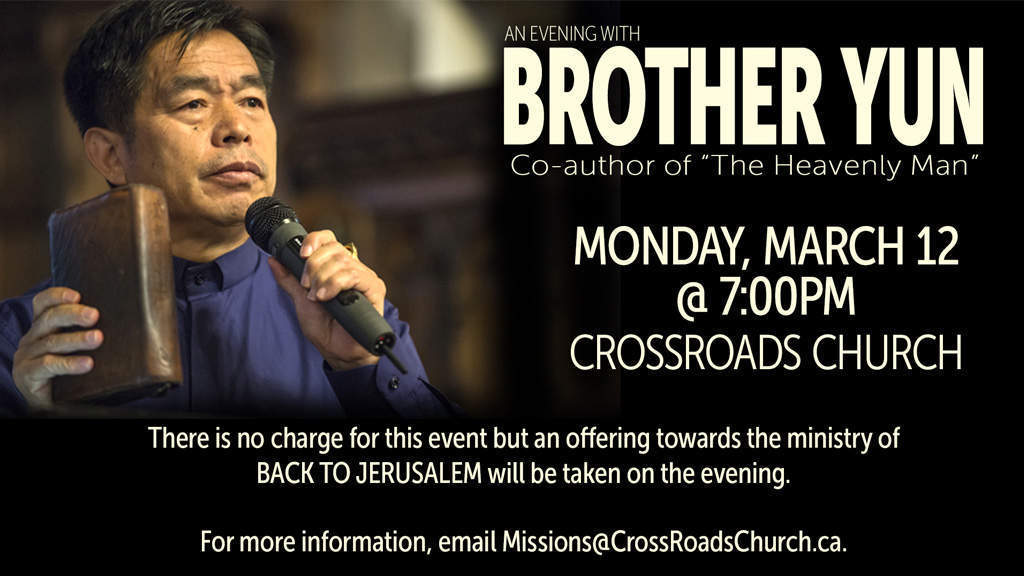 March 12 - Brother Yun Come hear a powerful testimony of conversion, persecution, miraculous escapes and how God speaks. Brother Yun is the co-author of The Heavenly Man. Don't miss out on this great opportunity to hear from this amazing man of God. March 12 at 7:00pm.
Short-term Opportunity in Greece 2018
Have you ever wondered what it would be like to walk alongside one of our missionaries? This summer you have the opportunity to partner with Andrew and Melissa Fletcher as they run a Refugee Family Camp in Porto Astro, Greece. Join them as they help reach refugees with a deep understanding of the Gospel and love of Christ. *Special request for doctors, nurses, lifeguards and those willing to do cooking and cleaning. June 17-22. For more information contact ChantelleS@CrossRoadsChurch.ca. Applications available online at www.CrossRoadsChurch.ca/ShortTermOutreaches or at the missions kiosk.
---
Community News
The Spiritual Care Team at the Red Deer Regional Hospital is recruiting volunteers for their Hymn Sing/Chapel Program at the Red Deer Regional Hospital Centre. Commitment would be two hours once week – either on a Monday, Wednesday or Friday afternoon from 2:00 – 4:00. Responsibilities involve gathering patients from our units who would like to or would benefit from participating in Hymn Sing or Chapel, assisting them during program, and taking them back to their room or for a coffee in the Moose Cottage. Reward - the joy you receive from helping our patients with their spiritual needs, wonderful music and messages and new friendships. Please contact Brenda Farwell in Volunteer Resources at 403.343.4715 or by email at Brenda.Farwell@ahs.ca

55th Annual Inter-Church Bonspiel - Saturday, February 24th, 9am start. Looking for four volunteers to enjoy a day of curling fun and great prizes. Banquet and Awards to follow. Red Deer Curling Centre, $200 Entry Fee. Contact Merle Oosterhoff at caicbonspiel@gmail.com or phone 043-346-2458 if you're interested in taking part in this fun city-wide event!