Longing for a New Label
January 14, 2018
Pastor Shawn Hubert
The Spirit of God, who raised Jesus from the dead, lives in you.
And just as God raised Christ Jesus from the dead, He will give life to your mortal bodies by this same Spirit living within you.
Romans 8:33 (NLT)
Join us for our live services at 9:00am, 11:00am or 6:00pm!


New to CrossRoads?
Welcome to CrossRoads Church! It's great to have you here. We'd love to meet you and give you some information to help get you connected. Visit us at the Connecting Point in the front foyer or text CrossRoads New to 393939. (Msg & data rates may apply) or click here.
This Sunday...

January 14 - Connect into Community Event
Join us as we launch our winter semester of Community Life here at CrossRoads. There is something for everyone - men, women, singles, couples, young adults, youth, adventurers, children, families and more! Join us in the cafe and gym after any service for some great snacks, conversation and opportunity to find your fit here at CrossRoads.
January 14 - Faith at Home (Grade 4)
For Grade 4 students and their parents during each of the services. Morning event will be the Chapel, evening service event will be in Room 202.
---
Coming up...

January 16 - The Alpha Course
The 10-week Alpha course is your opportunity to explore the Christian faith. No question is too simple, too tough, or too out there. Try us. On Tuesday, January 16, join us for the Come and See Dinner in the Cafe at 6:30pm. For more information visit www.CrossRoadsChurch.ca/alpha.
January 16 - Young Adults
A new Young Adult Small Group is starting at Justin and Chauntille Munchinsky's! Tuesday nights at 7:30pm. For more info on this group please email pastor Rob at RobertM@CrossRoadsChurch.ca.

January 17 - Thrive: Growing In Relationship With God, Self And Others
Because He Loves Me - Wednesday, January 17 at 9:00am. Ladies, join us as author Deborah Veuger shares with us. Bring a book to exchange or donate to local schools.
January 19 - Single Moms Fellowship
Inviting all single moms to join us on Friday, January 19. Alana Peters will present "An Introduction to Self-Compassion" . We all have an active internal conversation. What kind of conversation do you have with yourself? Would you talk to a best friend the way you talk to yourself? Want a kinder conversation? Come discover important tools that you can use today! Please register on the FaceBook page or if you are new call Mary at 587-876-8302. We meet in the front foyer at 6:00pm. Dinner and childcare are provided. We look forward to seeing you!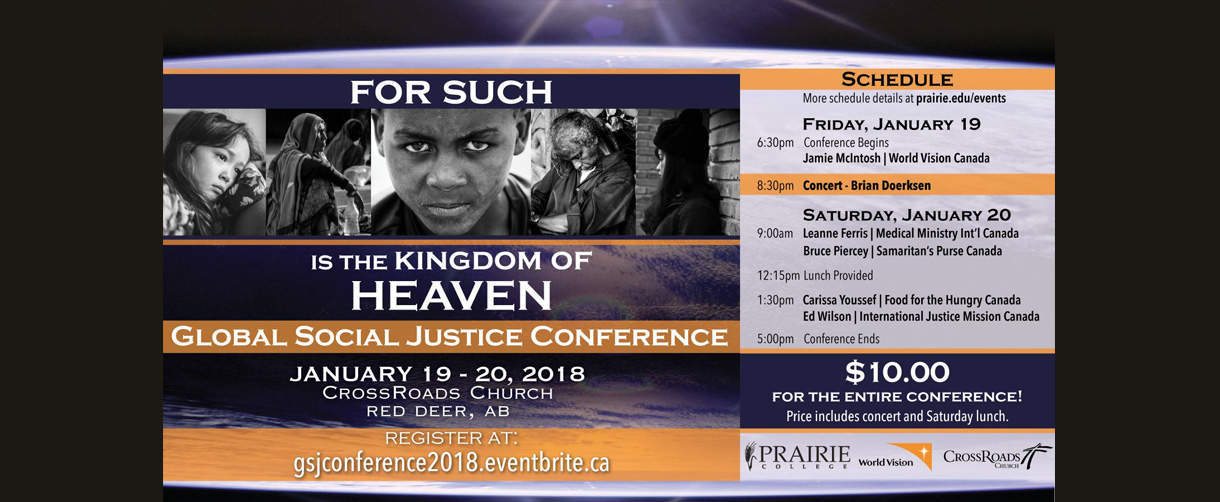 January 19-20 - Global Social Justice Conference
The disciples' rebuke of people who brought their children to Jesus prompted Christ's reply, "Let the little children come to me and do not hinder them, for to such belongs the kingdom of heaven." His concern reached out to the powerless, the vulnerable, and the voiceless.

The main purpose of the Global Social Justice Conference is to educate and inspire participants to respond to the biblical mandate of justice toward those to whom Christ was referring. Attending the conference will increase your awareness of critical issues faced by people in Canada and around the world and illustrate ways the local church can effectively respond to these needs. Get more info and register here.

January 24 - CrossRoads Church Annual General Meeting
Wednesday January 24 @ 7:00pm in the Sanctuary. We are looking forward to hearing some great God stories and sharing some exciting things for the future. AGM booklets can be picked up at the Connecting Point or bookshelves around the church. Everyone Welcome!
February 6 - MoMENtum
Come out for a night of wings, worship and encouragement just for men! 6:45pm in the Youth Centre
February 8 - Junior High Youth
Don't miss out on a night of laser tag , games and more. Thursday, February 8 at LazerForce in Red Deer. Grade 7- Meet THERE at 6:30pm. Pick up at 7:45pm. Grade 8- Meet THERE at 7:30pm. Pick up at 8:45pm. This will allow for more game time for your grade! The event is $20 and you can register online at www.CrossRoadsChurch.ca/grade7-8
February 11 - Baby Dedication
Register online at www.CrossRoadsChurch.ca/PreK before February 4 to take part in our special service in the Chapel at 9:00am. For more information email TammyG@CrossRoadsChurch.ca.
---
NEWS...
2018 Offering Envelopes
If you haven't picked up your box of 2018 offering envelopes they will be in Ministry Lane this week. Find your name on your box and only take that one. If you would like assigned offering envelopes please request a box at the Connecting Point.
Mailing of 2017 tax receipts
ALL 2017 donation tax receipts will be mailed out this year. Please ensure the church office has your correct mailing address before January 24.
We're Hiring!
We are looking for the right individual to fill the position of Pastor of K-6 Ministries as well as a position of Facility Host/Janitor. More information is available at the Connecting Point or online at www.CrossRoadsChurch.ca/employment.
GriefShare Ministry
GriefShare is a weekly ministry that reaches out to those who have experienced the death a spouse, child, family member, or friend. Begin your healing journey at GriefShare Tuesdays at 7:00pm in Room 108. You are welcome to start any Tuesday, as each session is self-contained.
Groups Available
You can check out our winter semester of open groups online now! View and register today at www.CrossRoadsChurch.ca/Groups
Getting married in 2018?
Engaged Encounter Weekend - April 27-29, 2018 at Camp Silversides. $250/couple. Online Registration will be available January 28. For more information go to www.CrossRoadsChurch.ca/marriageprep.
Save the Date
Marriage Enrichment Weekend June 8 -10, 2018 Watch for online registrations to open in April. For more information about the weekend, go to www.CrossRoadsChurch.ca/marriage.
---
January Prayer
Dear Lord,
We thank You for bringing us into this new year, and we pray that in 2018 our hearts would be fully attentive to what You have to say to us.
Father, this year we ask that You would help us to grow in our faith and our walk with You. We pray that Your Spirit would strengthen us in our gifts, and that as we use them, they would bear fruit for Your glory.
We pray for Pastors Shawn and Dan who will be speaking to us this month. Empower them through Your Spirit to bring us into the presence of Jesus. And help us to listen carefully so that we hear what You are saying and can put it into practice.
Jesus, we pray that 2018 would be a year marked by growth, faith, and action. Help us to pay careful attention to You so that we do not drift away.
In Your Name we pray, amen.