Pursuing Joy
Guest Speaker Scott Arbeiter
President of World Relief
Click here to listen to the live service at 9:00am, 11:00am or 6:00pm!
Therefore, since we are surrounded by such a great cloud of witnesses,
let us throw off everything that hinders and the sin that so easily entangles. And let us run with perseverance the race marked out for us,
fixing our eyes on Jesus, the pioneer and perfecter of faith.
For the joy set before Him He endured the cross, scorning its shame,
and sat down at the right hand of the throne of God.
Consider Him who endured such opposition from sinners,
so that you will not grow weary and lose heart.
Hebrews 12:1-3 (NIV)
New to CrossRoads?
Welcome to CrossRoads Church! It's great to have you here. We'd love to meet you and give you some information to help get you connected. Visit us at the Connecting Point in the front foyer or text CrossRoads New to 393939. (Msg & data rates may apply) or click here.
---
Today at CrossRoads
Holy Land Highlights
This Sunday, after the 11:00 service in the Chapel, Pastor Shawn and the Boskers family will be sharing about their trip to Egypt and Israel. Along with photos, they would love to share what a trip to The Holy Land would be like for you. Come and go, or stay for about an hour. If you are interested in a trip to The Holy Land they will have a list of possible dates for 2018/2019.
Local and Global Focus - the next four weeks:
Last Week | Local Initiatives - Anne Waddell, Director of Central Alberta Pregnancy Care Centre was interviewed on-stage.
Today | Focus on Rwanda - Scott Arbeiter, President of World Relief will join us for a discussion about our partnership in Rwanda. World Relief seeks to impact communities through the local churches, uniting them to work together for the good of their communities. They empower the churches to be the moving force, bringing HOPE to the poorest in the nation; and we get to be part of this – come find out how! Scott will be available after each service in the foyer, and is our guest speaker today, sharing a message of JOY.
December 10 | Focus on Uganda - Global Compassion Committee country leads, Bill Shaw or Adam Minke will be interviewed on-stage; come hear about what God is up to with our partner.
December 17 | Focus on Haiti - Marc and Lisa Honorat will join us on-stage for a discussion of what our partner Haiti Arise is accomplishing for God in Haiti.
To find out more details, be sure to grab one of the new Compassion Booklets from the Connecting Point or get more information online here: www.CrossRoadsChurch.ca/ChristmasCompassion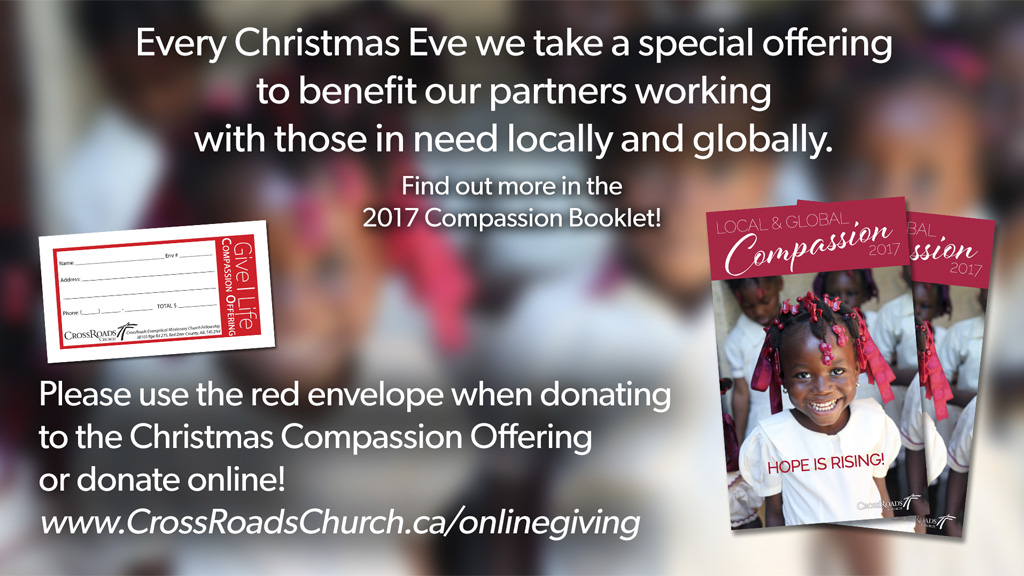 Coming Events
Breakfast Program Tour
Breakfast programs operate in most schools now but how do they actually work? What is served? Who provides and for how many? Why are they needed and how can you get involved? Central Middle School has invited you to come and see and hear for yourself! If you would like to participate in this tour on December 5 at Central Middle school you must preregister with LaurieW@CrossRoadsChurch.ca. Come and experience and learn.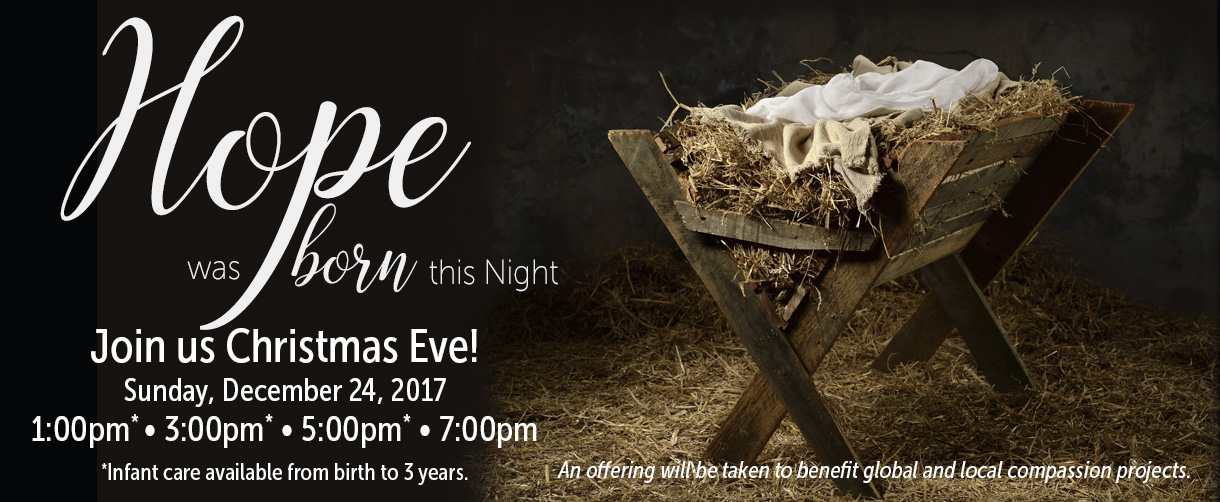 New Year's Eve Party
Sunday December 31 • 7:30pm - 10:00pm. Celebrate the New Year with our CrossRoads Family. There will be something for everyone! 10:00pm Ball-drop to welcome in the new year. Please register at www.CrossRoadsChurch.ca/ComingEvents
Winter 2018 Groups
Are you hoping to facilitate some type of group this coming January? Study group, connecting group, support group, hobby group? We'd love to assist you and help get the word out there to others. Please email CommunityLife@CrossRoadsChurch.ca to get started.
---
Other News
2018 Offering Boxes
Please pick up your 2018 boxed offering envelopes in the main foyer before and after each service on December 10 and 17.
Celebrating Communion
In the month of December, we will be celebrating Communion on December 10.
GriefShare Ministry
GriefShare is a weekly ministry that reaches out to those who have experienced the death a spouse, child, family member, or friend. Begin your healing journey at GriefShare Tuesdays at 7:00pm in Room 108. You are welcome to start any Tuesday, as each session is self-contained.
K-6 Tithe Update
Ever wonder what your child's tithe money is used for? Each week for several years, CrossRoads' K-6 kids have faithfully helped support the children of Beautiful Gate (Nala House) in Lesotho, Africa. Now a new opportunity to bless the children of one of our Global Compassion partners has been presented! CrossRoads Kids' tithe will now be used to sponsor two children and help with general expenses at the Haiti ARISE Children's Village. To learn more about this organization and how to pray as a family, visit haitiarise.org/childrens-village.
---
Opportunities
Serving opportunity for Christmas Eve Childcare
This Christmas Eve, consider serving as a family or individual to care for children 0 - 3 years of age during Christmas Eve Services (1:00, 3:00, 5:00pm). For more information please email TammyG@CrossRoadsChurch.ca.
Serving in Children's Ministry
We are still looking for room leaders for children's ministry with open spots in all three services. You can find our online application at www.CrossRoadsChurch.ca/ServeKids. For more information please email KarliH@CrossRoadsChurch.ca.
We're Hiring!
We are looking for the right individual to fill the position of Pastor of K-6 Ministries. More information is available at the Connecting Point or online at www.CrossRoadsChurch.ca/employment.
Christmas Food Donations URGENTLY needed!
There is an increased demand for food donations for children and families in need within our schools. The schools that we are in relationship with send home backpacks of food not just for weekends but also the Christmas break. Non-perishable items for breakfasts and dinners are requested including cereals, pastas, canned vegetables and fruits. Fresh items are also being accepted for the Christmas season only - such as small bags of potatoes, carrots, apples and oranges. Donations gratefully accepted in Ministry Lane. Opportunities for your small group to support the nutritional needs of a child or family over the Christmas season are available as well. For more information or to be a food donation deliverer please contact Laurie at LaurieW@CrossRoadsChurch.ca.
---
December Prayer
Dear Lord,

We thank You that this month we get to celebrate the birth of Your Son who came to make all things new. We pray that as we enter into this busy season, this place would be filled with Your presence and peace. As people come in and out of the building this month for school concerts, special events and services, we pray that You would fill this building with an overwhelming sense of Your presence so that everyone who enters would seek You out.

We pray that Your Holy Spirit would be felt here, and that His power would draw people back to You. We pray that new people would come to know Your salvation this Christmas season. And remind us of the joy of knowing and serving You.

We pray that we would represent You well in all that we do—You have done amazing things for us and we are filled with joy! We trust that as we ask to be aware of Your presence in our midst, we would be changed to live out Your will and proclaim Your glory with joy and peace.

In Jesus' name, amen.
"You make known to me the path of life; you will fill me with joy in your presence, with eternal pleasures at your right hand"
Psalm 16:11 (NIV)
Youth Update
Jr High - JUMP 360
We are so excited to be going to JUMP 360 on Thursday, December 7! The cost is $15. Meet there at 6:30pm and we'll jump from 7:00-8:30pm. Pick up at 8:45pm at Jump 360. Be sure that you have signed a CrossRoads waiver for any offsite activities, and that you register online at www.CrossRoadsChurch.ca/Register. Questions? Email Karleen at KarleenH@CrossRoadsChurch.ca
Grade 7-8 - Echo
Sundays 9:30am, 11:30am, 6:30pm (meet in the Cafe after worship at the Connecting Point desk and then we'll head to the Youth Centre.
Stay up to date on what's happening in youth! Visit www.CrossRoadsChurch.ca/youth