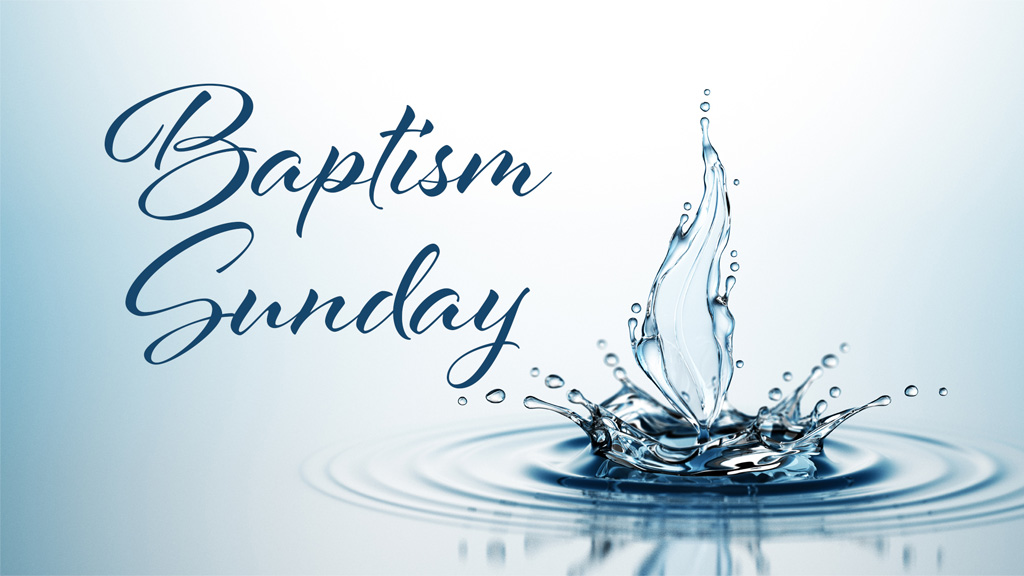 Click here to listen to the live service at 9:00am, 11:00am or 6:00pm!
1 What shall we say, then? Shall we go on sinning so that grace may increase? 2 By no means! We are those who have died to sin; how can we live in it any longer? 3 Or don't you know that all of us who were baptized into Christ Jesus were baptized into His death? 4 We were therefore buried with Him through baptism into death in order that, just as Christ was raised from the dead through the glory of the Father, we too may live a new life.
Romans 6:1-4 (NIV)
New to CrossRoads?
Welcome to CrossRoads Church! It's great to have you here. We'd love to meet you and give you some information to help get you connected. Visit us at the Connecting Point in the front foyer or text CrossRoads New to 393939. (Msg & data rates may apply) or click here.
---
Today at CrossRoads
Baptism Reception
There will be a reception after each service in the café to congratulate the baptizees. Everyone is invited!
Faith at Home: "Telling Your God Stories"
Grade 3's students and their parents meet together in the Grade 3 classroom during all three services.
Local and Global Focus - the next four weeks:
Today | Local Initiatives - Anne Waddell, Director of Central Alberta Pregnancy Care Centre will be interviewed on-stage. Anne and her team will be in the foyer after all three services to engage in further conversation, or to discuss how you can be a part of this amazing ministry.
December 3 | Focus on Rwanda - Scott Arbeiter, President of World Relief will join us for a discussion about our partnership in Rwanda, and then will share a main message of JOY as our guest speaker.
December 10 | Focus on Uganda - Global Compassion Committee country leads, Bill Shaw or Adam Minke will be interviewed on-stage; come hear about what God is up to with our partner.
December 17 | Focus on Haiti - Marc and Lisa Honorat will join us on-stage for a discussion of what our partner Haiti Arise is accomplishing for God in Haiti.
To find out more details, be sure to grab one of the new Compassion Booklets from the Connecting Point or get more information online here: www.CrossRoadsChurch.ca/ChristmasCompassion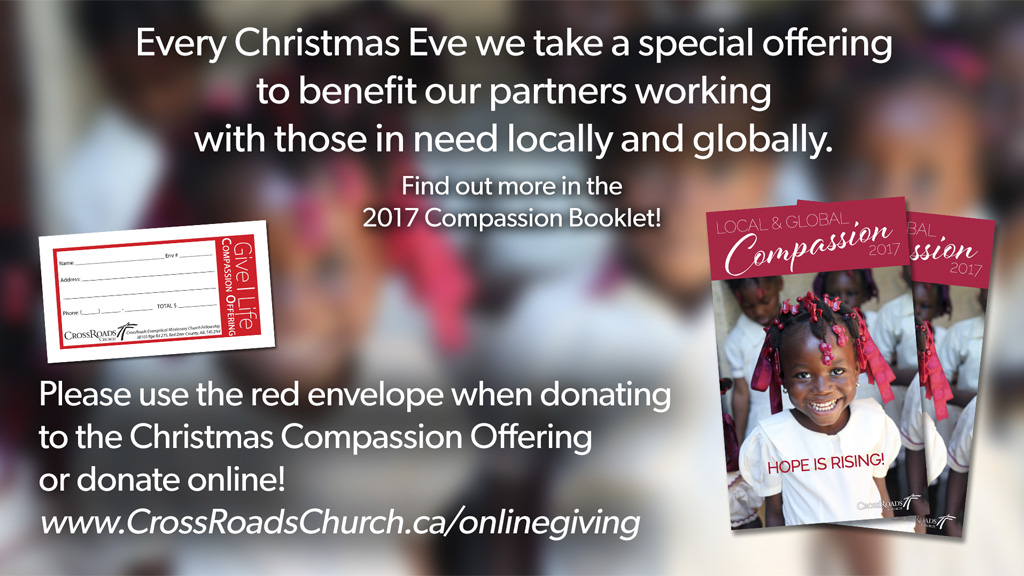 Coming Events
Carols & Cookies
Monday, November 27, 7:00 - 8:30pm. Ladies, please join us in the Chapel for an unplugged evening of carols & hymns, cookies and hot chocolate - No registration required, no cost. Come as you are. All ages of ladies welcome!
GriefShare Ministry
GriefShare is a weekly ministry that reaches out to those who have experienced the death a spouse, child, family member, or friend. Begin your healing journey at GriefShare Tuesdays at 7:00pm in Room 108. You are welcome to start any Tuesday, as each session is self-contained.
CrossRoads Kids First time Equip Training
Wednesday, November 29 at 7:00pm. If you are new to serving in CrossRoads Kids K-6 or are interested in serving with us, please register online at www.CrossRoadsChurch.ca/ComingEvents.
Breakfast Program Tour
Breakfast programs operate in most schools now but how do they actually work? What is served? Who provides and for how many? Why are they needed and how can you get involved? Central Middle School has invited you to come and see and hear for yourself! If you would like to participate in this tour either November 28 or December 5 at Central Middle school you must preregister with LaurieW@CrossRoadsChurch.ca. Come and experience and learn.
Spotlight on Korea
Thursday, November 30, 7:00pm in the Trestle Room. Come hear stories from Canadians who presently live and work in North Korea and of how God is moving in the world's most restricted countries.
GEMS Christmas Banquet & Concert
Saturday, December 2 • 5:15pm. Everyone welcome to the annual GEMS Christmas Banquet and Concert featuring Potter's Clay! Tickets $30/person. This Sunday is the last day to get tickets. Visit Ministry Lane between morning services.
56er Family Event
Saturday, December 2 at 5:30pm in the Youth Wing. Grade 5/6, join us with your parent(s) (no siblings, please) upstairs in the CrossRoads Church Youth Wing for pizza, snacks and fun games! $5 per family, payable in cash at the door, but please register here: www.CrossRoadsChurch.ca/56erFamilyEvent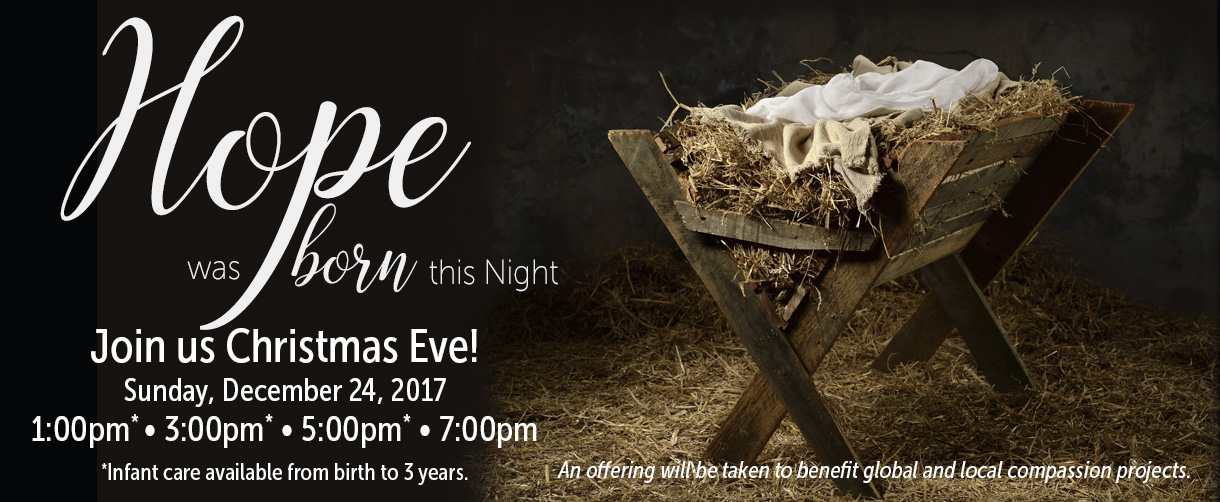 New Year's Eve Party
Sunday December 31 • 7:30pm - 10:00pm. Celebrate the New Year with our CrossRoads Family. There will be something for everyone! 10:00pm Ball-drop to welcome in the new year. Please register at www.CrossRoadsChurch.ca/ComingEvents
---
Other News
2018 Offering Boxes
Please pick up your 2018 boxed offering envelopes in the main foyer before and after each service on December 10 and 17.
Celebrating Communion
In the month of December, we will be celebrating Communion on December 10.
Operation Christmas Child
Thank you CrossRoads for packing 1472 fun filled shoeboxes to bless children. A BIG thank you to the amazing life group for loading the church boxes. A HUGH thank you to all the volunteers who helped at collection time. Each box is a powerful expression of hope, joy and love—but that's only the beginning. Shoeboxes open the door to hear about Jesus!
K-6 Tithe Update
Ever wonder what your child's tithe money is used for? Each week for several years, CrossRoads' K-6 kids have faithfully helped support the children of Beautiful Gate (Nala House) in Lesotho, Africa. Now a new opportunity to bless the children of one of our Global Compassion partners has been presented! CrossRoads Kids' tithe will now be used to sponsor two children and help with general expenses at the Haiti ARISE Children's Village. To learn more about this organization and how to pray as a family, visit haitiarise.org/childrens-village.
Winter 2018 Groups!
Are you hoping to facilitate some type of group this coming January? Study group, connecting group, support group, hobby group? We'd love to assist you and help get the word out there to others. Please email CommunityLife@CrossRoadsChurch.ca to get started.
Thank you!
Thanks to all who were able to attend Equip on Saturday! We had a great time learning and growing together.
---
Opportunities
Settling OurNewcomers
We are excited about our church-sponsored families coming to Red Deer! We are building teams to welcome, journey with and help settle these new families. If you are interested in helping with rental property research, transportation, budgets, grocery shopping, ESL, partnering, and much more, you are needed! For more info e-mail WilmaV@CrossRoadsChurch.ca.
Serving in Children's Ministry
We are still looking for room leaders for children's ministry with open spots in all three services. You can find our online application at www.CrossRoadsChurch.ca/ServeKids. For more information please email KarliH@CrossRoadsChurch.ca.
We're Hiring!
We are looking for the right individual to fill the position of Pastor of K-6 Ministries. More information is available at the Connecting Point or online at www.CrossRoadsChurch.ca/employment.
Christmas Food Donations URGENTLY needed!
There is an increased demand for food donations for children and families in need within our schools. The schools that we are in relationship with send home backpacks of food not just for weekends but also the Christmas break. Non-perishable items for breakfasts and dinners are requested including cereals, pastas, canned vegetables and fruits. Fresh items are also being accepted for the Christmas season only - such as small bags of potatoes, carrots, apples and oranges. Donations gratefully accepted in Ministry Lane. Opportunities for your small group to support the nutritional needs of a child or family over the Christmas season are available as well. For more information or to be a food donation deliverer please contact Laurie at LaurieW@CrossRoadsChurch.ca.
---
November Prayer
Lord, we know that You want to give everyone in Central Alberta the opportunity to have a personal relationship with You. Help us to be a part of sharing Your truth with our friends, family, co-workers and neighbours.

As we follow You, open our eyes to the needs around us so that we can compassionately impact the world in Your name. We ask that You show us where we fail to follow You, and we invite Your Holy Spirit to guide us and help us walk in Your way.

Lord, repair and restore us and take us deeper in our walk with You, so that we can find our joy in You and be equipped to do the work You have set before us.

In Jesus' name, amen.
"Come, follow me," Jesus said, "and I will send you out to fish for people."
MARK 1:17 (NIV)
Youth Update
Senior High - West Edmonton Mall
Saturday, December 2 Senior High youth will be spending the day at West Edmonton Mall. Cost: $15 for the bus ride. Optional: Students have the choice to go to GalaxyLand or Water Park. (Students will pay $45 full day pass at the doors). There is also the option for students and leaders to shop and hang out. We will leave the church at 1:00pm and return at 11:00pm. Your student is in charge of paying for all their own food and attractions they want to do.
Register at www.CrossRoadsChurch.ca/Register
Jr High - JUMP 360
We are so excited to be going to JUMP 360 on Thursday, December 7! The cost is $15. Meet there at 6:30pm and we'll jump from 7:00-8:30pm. Pick up at 8:45pm at Jump 360. Be sure that you have signed a CrossRoads waiver for any offsite activities, and that you register online at www.CrossRoadsChurch.ca/Register. Questions? Email Karleen at KarleenH@CrossRoadsChurch.ca
Grade 7-8 - Echo
Sundays 9:30am, 11:30am, 6:30pm (meet in the Cafe after worship at the Connecting Point desk and then we'll head to the Youth Centre.
Stay up to date on what's happening in youth! Visit www.CrossRoadsChurch.ca/youth