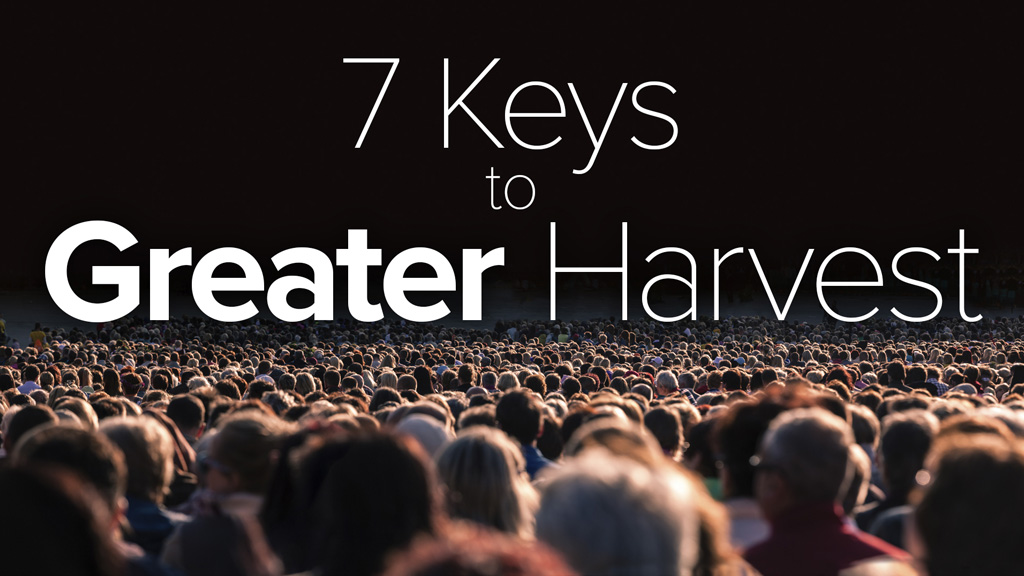 7 Keys to Greater Harvest
Guest Speaker: Fares Abraham
Luke 5:1-7
Click here to listen to the live service at 9:00am, 11:00am or 6:00pm!
1Sing to the Lord a new song; sing to the Lord, all the earth.
2 Sing to the Lord, praise his name; proclaim his salvation day after day.
3 Declare his glory among the nations, his marvelous deeds among all peoples.
Psalm 96:1-3 (NIV)
New to CrossRoads?
Welcome to CrossRoads Church! It's great to have you here. We'd love to meet you and give you some information to help get you connected. Visit us at the Connecting Point in the front foyer or text CrossRoads New to 393939. (Msg & data rates may apply) or click here.
---

Baptism Sunday - November 26
If you would like to be registered for baptism or receive more information about baptism and what it means, please plan on attending an information session following each of the services today. Meet at the foyer Connecting Point for directions to the meeting room.

MoMENtum
Tuesday, November 21 at 6:45pm in the Youth Centre. Come out for a night of wings, worship and encouragement just for men!

Connecting Event: Parents of Grades 7/8's
On Thursday, November 23 from 7:00 - 9:00pm, after you drop your kids off at youth, why not join us in the Cafe to meet other parents and enjoy some food! Please register online at www.CrossRoadsChurch.ca/ComingEvents.
Faith at Home - Grade 3
Mark your calendar: The next Faith at Home event is for Grade 3 students and their parents on November 26!

Carols & Cookies
Monday, November 27, 7:00 - 8:30pm. Ladies, please join us in the Chapel for an unplugged evening of carols & hymns, cookies and hot chocolate - No registration required, no cost. Come as you are. All ages of ladies welcome!
Equip Saturday, November 25
Equip is a day-long opportunity to learn and grow together as a church body. For just $10 you'll receive lunch and can choose three sessions from a variety of topics. If you cannot be here for the whole day, simply choose the seminars you are able to attend. We recommend this EQUIP day for people ages 13 and older. Childcare is not provided. More information and registration at www.CrossRoadsChurch.ca/Equip.

CrossRoads Kids First time Equip Training
Wednesday, November 29 at 7:00pm. If you are new to serving in CrossRoads Kids K-6 or are interested in serving with us, please register online at
www.CrossRoadsChurch.ca/ComingEvents.
Breakfast Program Tour
Breakfast programs operate in most schools now but how do they actually work? What is served? Who provides and for how many? Why are they needed and how can you get involved? Central Middle School has invited you to come and see and hear for yourself! If you would like to participate in this tour either Nov 28 or Dec 5 at Central Middle school you must preregister with LaurieW@CrossRoadsChurch.ca. Come and experience and learn.
Spotlight on Korea
Thursday, November 30, 7:00pm in the Trestle Room. Come hear stories from Canadians who presently live and work in North Korea...and of how God is moving in the world's most restricted countries.

GEMS Christmas Banquet & Concert
Saturday, December 2 • 5:15pm. Everyone welcome to the annual GEMS Christmas Banquet and Concert featuring Potter's Clay! Tickets $30/person and available Sundays between morning services in Ministry Lane, or during the week at the church office.
56er Family Event
Saturday, December 2 at 5:30pm in the Youth Wing. Grade 5/6, join us with your parent(s) (no siblings, please) upstairs in the CrossRoads Church Youth Wing for pizza, snacks and fun games! $5 per family, payable in cash at the door, but please register here: www.CrossRoadsChurch.ca/56erFamilyEvent
---
Opportunities
Outreach Team to Haiti En-route!
Please lift up the Haiti team today, as they depart Calgary at 10:00am. Please pray for safe travel, team unity and an outpouring of the Holy Spirit onto the team while in Haiti. Keep up with them here: https://outreach.CrossRoadsChurch.ca/
Christmas Food Donations URGENTLY needed!
At this time of year there is an increased demand for food donations for children and families in need within our schools. The schools that we are in relationship with send home backpacks of food not just for weekends but also the Christmas break. Non perishable items for breakfasts and dinners are requested including cereals, pastas, canned vegetables and fruits. Fresh items are also being accepted for the Christmas season only - such as small bags of potatoes, carrots, apples and oranges. Donations gratefully accepted in Ministry Lane. For more information or to be a food donation deliverer please contact LaurieW@CrossRoadsChurch.ca.

Opportunities for your small group to support the nutritional needs of a child or family over the Christmas season are available as well. Please ask Laurie for this information.
The Cameras are calling you!
Have you ever, when sick or traveling, tuned in to a Sunday service via Livestream? That's only possible through the hard work of our amazing visual tech team! We currently have a pressing need for camera operators, and training is provided. Please consider this opportunity to serve. Contact DallasL@CrossRoadsChurch.ca to join us behind a camera!
Serving in Children's Ministry
We are still looking for room leaders for children's ministry with open spots in all three services. You can find our online application at www.CrossRoadsChurch.ca/ServeKids. For more information please email KarliH@CrossRoadsChurch.ca.
We're Hiring!
We are looking for the right individual to fill the position of Pastor of K-6 Ministries. More information is available at the Connecting Point or online at www.CrossRoadsChurch.ca/employment.
---
Historic Court Case - Needs Your Prayer!
The Evangelical Fellowship of Canada and the Canadian Council of Christian Charities are asking churches, individuals, and groups to pray together on Sunday, November 26, 2017.
Will You Pray? Sunday, November 26 is a day set apart to pray for
the successful resolution of the Trinity Western University (TWU) case, which will be heard in the Supreme Court of Canada on November 30 and December 1;
the future of religious freedom in Canada, given the broad potential implications of the TWU case.
Resources: You can read more about this prayer day and download resources for yourself and your church, small group, and community, here.
If you are going to join in prayer, please let them know by email, or at facebook.com/CCCCCharities.
Thank you for joining us as we ask God that His will be done in Canada.
---
Youth Update
Senior High - West Edmonton Mall
Saturday, December 2 Senior High youth will be spending the day at West Edmonton Mall. Cost: $15 for the bus ride. Optional: Students have the choice to go to GalaxyLand or Water Park. (Students will pay $45 full day pass at the doors). There is also the option for students and leaders to shop and hang out. We will leave the church at 1:00pm and return at 11:00pm. Your student is in charge of paying for all their own food and attractions they want to do.
Register at www.CrossRoadsChurch.ca/Register
JR High - JUMP 360
We are so excited to be going to JUMP 360 on Thursday, December 7! The cost is $15. Meet there at 6:30pm and we'll jump from 7:00-8:30pm. Pick up at 8:45pm at Jump 360. Be sure that you have signed a CrossRoads waiver for any offsite activities, and that you register online at www.CrossRoadsChurch.ca/Register. Questions? Email Karleen at KarleenH@CrossRoadsChurch.ca
Grade 7-8 - Echo
Sundays 9:30am, 11:30am, 6:30pm (meet in the Cafe after worship at the Connecting Point desk and then we'll head to the Youth Centre.
Stay up to date on what's happening in youth!
Text CrossRoads Youth to 393939 (message and data rates may apply) or visit www.CrossRoadsChurch.ca/youth
---
November Prayer
Lord, we know that You want to give everyone in Central Alberta the opportunity to have a personal relationship with You. Help us to be a part of sharing Your truth with our friends, family, co-workers and neighbours.

As we follow You, open our eyes to the needs around us so that we can compassionately impact the world in Your name. We ask that You show us where we fail to follow You, and we invite Your Holy Spirit to guide us and help us walk in Your way.

Lord, repair and restore us and take us deeper in our walk with You, so that we can find our joy in You and be equipped to do the work You have set before us.

In Jesus' name, amen.
"Come, follow me," Jesus said, "and I will send you out to fish for people."
Mark 1:17 (NIV)