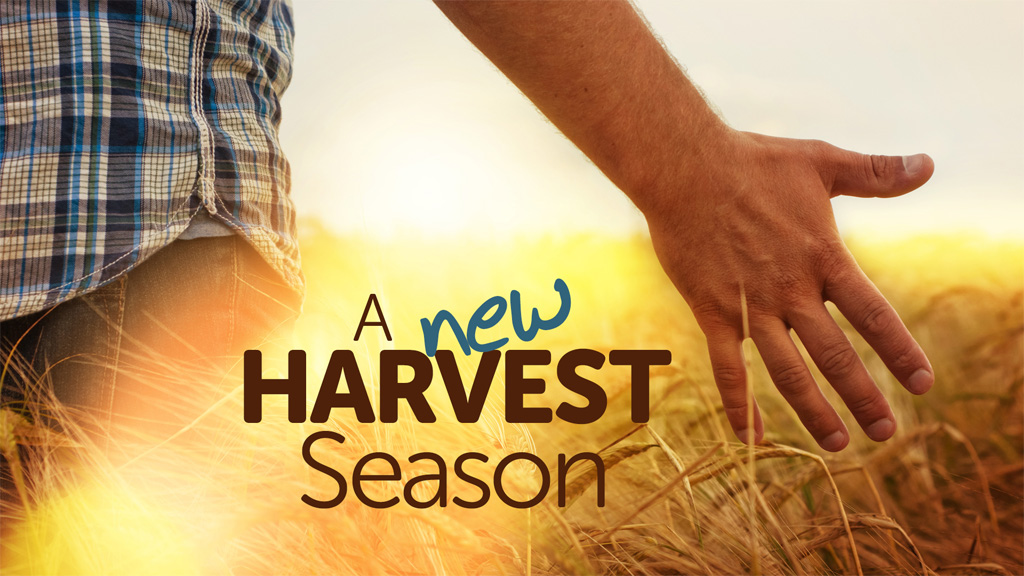 A New Harvest Season
Guest Speaker: Ken Driedger
John 4:35-38
Click here to listen to the live service at 9:00am, 11:00am or 6:00pm!
He told them, "The harvest is plentiful, but the workers are few. Ask the Lord of the harvest, therefore, to send out workers into his harvest field.
Luke 10:2 (NIV)
New to CrossRoads?
Welcome to CrossRoads Church! It's great to have you here. We'd love to meet you and give you some information to help get you connected. Visit us at the Connecting Point in the front foyer or text CrossRoads New to 393939. (Msg & data rates may apply) or click here.
---
Today at CrossRoads
Today's Guest Speaker
Ken Driedger is the Executive Director of Missional International Church Network. www.micn.org
Connect Into Community - Blackfalds / Lacombe
Do you live in one of these areas and want to meet others from the same area who attend CrossRoads? Join us after one of the services today in the Chapel.

Baptism Sunday- November 26
If you would like to be registered for baptism or receive more information about baptism and what it means, please plan on attending an information session following each of the services today and on November 19. Meet at the foyer Connecting Point for directions to the meeting room.
---
Opportunities
The Cameras are Calling You!
Have you ever, when sick or traveling, tuned in to a Sunday service via Livestream? That's only possible through the hard work of our amazing visual tech team! We currently have a pressing need for camera operators, and training is provided. Please consider this opportunity to serve. Contact DallasL@CrossRoadsChurch.ca to join us behind a camera!
Serving in Children's Ministry
We are still looking for room leaders for children's ministry with open spots in all three services. You can find our online application at www.CrossRoadsChurch.ca/ServeKids. For more information please email KarliH@CrossRoadsChurch.ca.
Operation Christmas Child
This is the last Sunday for the collection of Shoeboxes! For more info contact: Peggy 403 342-1227, Karla 403 986-1695. https://www.SamaritansPurse.ca/OCC
---
Events this week
GEMS November Luncheon
Tuesday, November 14 at 12 noon. Everyone welcome to attend. Feature: Remembrance Day presentation. $10/person.
THRIVE: Growing in relationship with God, self and others
POTLUCK BRUNCH Wednesday, November 15 at 9:00am. Bring a brunch item to share. Bring lightly used or new winter wear or food drive item. Toonie childcare and toonie latte bar. Join us for activities, guest speakers, crafts, food and making a difference in our community.
Single Moms Fellowship
Friday, Nov. 17 @ 6:00pm Inviting all single moms to a special celebration where our prayer partners will be preparing and serving us dinner. Topic: Single Parenting/Co-parenting. Please join us as we learn from each other. Call Mary at 587-876-8302 to register. Childcare is provided.
---
Coming up
MoMENtum
Tuesday, November 21 at 6:45pm in the Youth Centre. Come out for a night of wings, worship and encouragement just for men!
Connecting Event: Parents of Grades 7/8's
On Thursday, November 23 from 7:00 - 9:00pm, after you drop your kids off at youth, why not join us in the Cafe to meet other parents and enjoy some food! Please register online at www.CrossRoadsChurch.ca/ComingEvents.
Equip
Saturday, November 25 Equip is a day-long opportunity to learn and grow together as a church body. For just $10 you'll receive lunch and can choose three sessions from a variety of topics. If you cannot be here for the whole day, simply choose the seminars you are able to attend. We recommend this EQUIP day for people ages 13 and older. Childcare is not provided. More information and registration at www.CrossRoadsChurch.ca/Equip.
Faith at Home - Grade 3
Mark your calendar: The next Faith at Home event is for Grade 3 students and their parents on November 26!
Carols & Cookies
Monday, November 27, 7:00 - 8:30pm. Ladies - please join us in the Chapel for an unplugged evening of carols & hymns, cookies and hot chocolate - No registration required, no cost. Come as you are. All ages of ladies welcome!
Spotlight on Korea
Thursday, November 30, 7:00pm in the Trestle Room. Come hear stories from Canadians who presently live and work in North Korea...and of how God is moving in the world's most restricted countries.
GEMS Christmas Banquet & Concert
Saturday, December 2 • 5:15pm. Everyone welcome to the annual GEMS Christmas Banquet and Concert featuring Potter's Clay! Tickets $30/person and available every Sunday between morning services in Ministry Lane, or during the week at the church office.
---
Youth Update
Senior High - West Edmonton Mall
Saturday, December 2 Senior High youth will be spending the day at West Edmonton Mall. Cost: $15 for the bus ride. Optional: Students have the choice to go to GalaxyLand or Water Park. (Students will pay $45 full day pass at the doors). There is also the option for students and leaders to shop and hang out. We will leave the church at 1:00pm and return at 11:00pm.Your student is in charge of paying for all their own food and attractions they want to do.
Register at www.CrossRoadsChurch.ca/Register
JR High - JUMP 360
We are so excited to be going to JUMP 360 on Thursday, December 7! The cost is $15. Meet there at 6:30pm and we'll jump from 7:00-8:30pm. Pick up at 8:45pm at Jump 360. Be sure that you have signed a CrossRoads waiver for any offsite activities, and that you register online at www.CrossRoadsChurch.ca/Register. Questions? Email Karleen at KarleenH@CrossRoadsChurch.ca
Grade 7-8 - Echo
Sundays 9:30am, 11:30am, 6:30pm (meet in the Cafe after worship at the Connecting Point desk and then we'll head to the Youth Centre.
Stay up to date on what's happening in youth!
Text CrossRoads Youth to 393939 (message and data rates may apply) or visit www.CrossRoadsChurch.ca/youth
---
November Prayer
Lord, we know that You want to give everyone in Central Alberta the opportunity to have a personal relationship with You. Help us to be a part of sharing Your truth with our friends, family, co-workers and neighbours.

As we follow You, open our eyes to the needs around us so that we can compassionately impact the world in Your name. We ask that You show us where we fail to follow You, and we invite Your Holy Spirit to guide us and help us walk in Your way.

Lord, repair and restore us and take us deeper in our walk with You, so that we can find our joy in You and be equipped to do the work You have set before us.

In Jesus' name, amen.
"Come, follow me," Jesus said, "and I will send you out to fish for people."
Mark 1:17 (NIV)