Be Clean
Pastor Dan Cochrane
This Sunday we begin a series looking to Jesus as Healer, Teacher and Immanuel
1 When Jesus came down from the mountainside, large crowds followed him. 2 A man with leprosy[a] came and knelt before him and said, "Lord, if you are willing, you can make me clean."

3 Jesus reached out his hand and touched the man. "I am willing," he said. "Be clean!" Immediately he was cleansed of his leprosy. 4 Then Jesus said to him, "See that you don't tell anyone. But go, show yourself to the priest and offer the gift Moses commanded, as a testimony to them."
Matthew 8:1-4
New to CrossRoads?
Welcome to CrossRoads Church! It's great to have you here. We'd love to meet you and give you some information to help get you connected. Visit us at the Connecting Point in the front foyer or text CrossRoads New to 393939. (Msg & data rates may apply) or click here.
---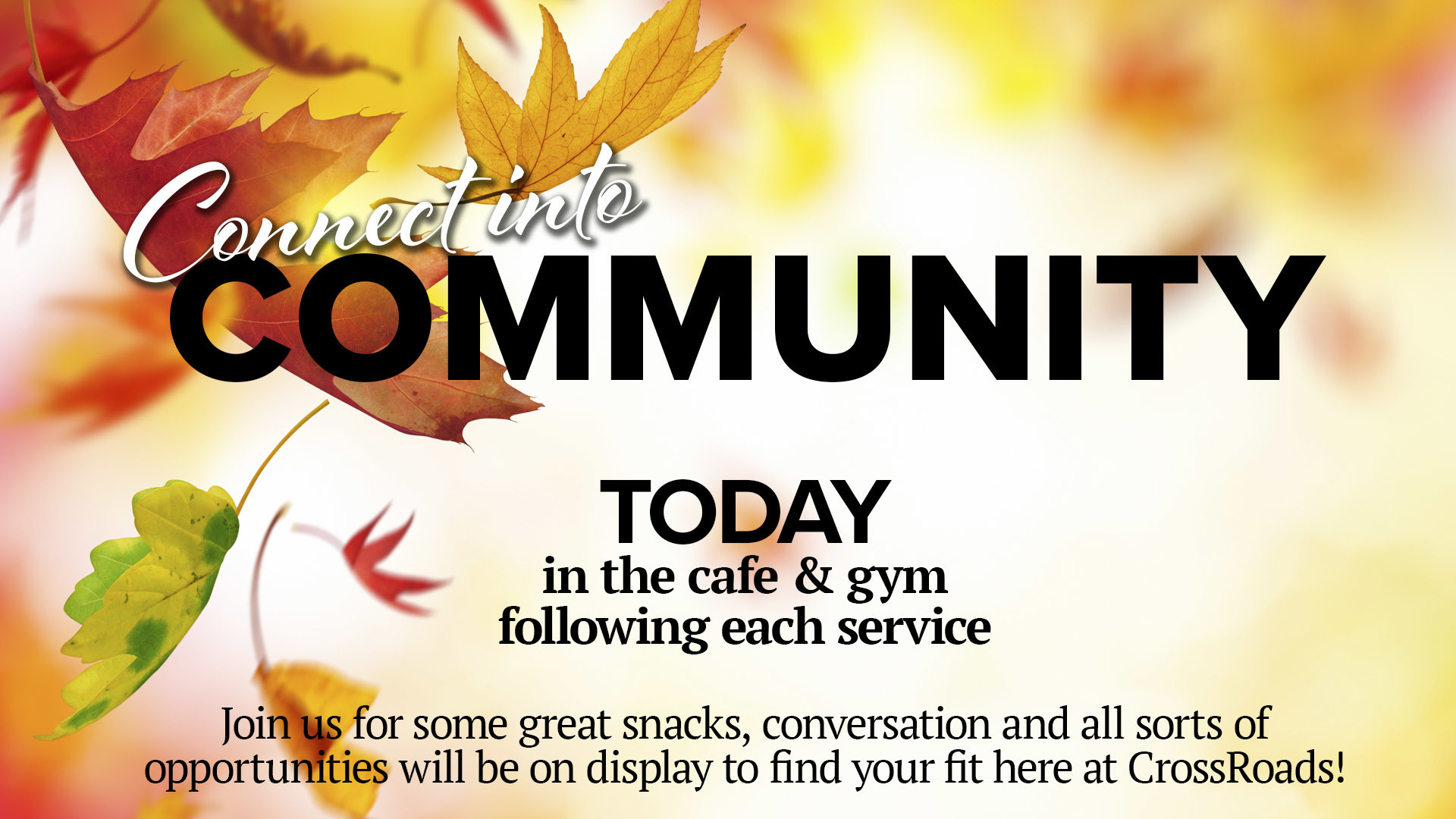 Connect into Community
We have an awesome variety of spaces for anyone looking to find connection at CrossRoads this fall! Come join us today after one of the 3 services - snacks and beverages in the gym and all sorts of opportunities on display in the café! We hope you can stay a little, mingle and find your fit into community at CrossRoads.
---
Grade 7 & 8 Students
Welcome to ECHO! After the opening set of worship songs, step out of service and meet us by the gym to go to ECHO in the Youth Centre.
---
Accepting bottles/cans at the CrossRoads Kids /Chapel entrance today to impact missions around the world.
---
---
This Week:
GEMS Seniors Luncheon
Tuesday, September 11 at 12 noon in the Chapel. GEMS Ministry is starting another fun-filled year. CrossRoads Kids Ministry is the feature for this month. Join us for a time of connecting and delicious food! Everyone welcome. $10 per person.
Did you say pizza?
Everyone is invited to come to "The Gathering" on Saturday, September 15 at 5:30-7:00pm in the gym and youth centre. After two weeks of prayer and fasting, we'd like to share and hear the stories of how God is moving our hearts and minds for Central Alberta. We look forward to having you join us and gather together as a church community!
Welcome Back Luncheon
If you serve in Early Childhood Ministries or are thinking of it, please join us for a yummy lunch and an overview of our area. (Plan to Protect, Planning Center and working with Early Childhood children) Sunday, September 16 at 12:45pm in the Chapel. Contact Marcia at MarciaB@CrossRoadsChurch.ca.
Backstage Pass Tour
Would you call CrossRoads home but still feel new? Or maybe it's your 2nd, 9th or 100th Sunday and you're curious about what happens during a Sunday service? Join us on Sunday, September 16 for a twenty minute interactive walking tour and learn more about the youth zone, worship area and tech department. After each service, meet your personal tour guide at the Connecting Point and gain your VIP pass and swag bag!
---
Coming Up:
Phase 4 Information Meetings
Phase 4 Info Meetings are on Wednesday, September 26 at 7:00pm and Sunday, September 30 at 12:30pm (lunch provided) Both meetings will be in the Chapel.
We invite you to choose one of the two dates to come see the plans for Phase 4. The Building Committee will present details on the plans and give opportunity to ask questions. The Church Board will present recommendations to the congregation in preparation for a Special Meeting of the Congregation on October 24. Your continued prayer support is greatly appreciated.
Fall Alpha Course
Do you have questions about life, faith or God? Join in on the fall Alpha course, starting Tuesday, September 18, 6:30pm in the Chapel. This 10 week course is free and has a different topic each night and includes a meal together at the start of the session. No question is too simple, too tough or too out there - all are welcome to join. Email CommunityLife@CrossRoadsChurch.ca.
Single Moms Fellowship
Welcome to all single moms and your children! Please join us on Friday, September 21 in the Front Foyer of CrossRoads at 6:00pm for our Single Moms Fellowship. It will be an opportunity to meet new people, share the harvest of our garden and experience fireside friendships. Child care is provided, please bring a lawn chair if the weather is good. Call or text Mary at 587-876-8302 to register. Looking forward to seeing you!
Faith at Home - Grade 1
Parents join your grade 1 child in their classroom on Sunday, September 23 during all three services for "Family Worship-More than Music".
56er Serve Sunday
The first 56er Serve Sunday of the school year is happening on Sunday, September 30! If you have a grade 5 or 6 student, be sure to register them before Sept. 26 at www.CrossRoadsChurch.ca/56erServeSundayRegistration.
Women's Retreat
September 28-30 • The women's retreat is getting closer and is filling up! Do you want to be refreshed, renewed and revived? Then this weekend is for YOU. Join us September 28-30 at Camp Kuriakos with speaker Christelle Baldovinos for a time of connecting with the Lord and women in our community. The weekend includes sessions, worship, workshops, good food and more. Cost is $155, including lodging and meals. Register at www.CrossRoadsChurch.ca/ComingEvents. For any questions, please email womensretreatcrossroads@gmail.com. *If you want to come but are unable due to finances, please contact us by email as we have a way to get you there!
The Mission of God's People
Join Pastor Denise on the first Monday of every month, beginning October 1 at 7:00pm in the Trestle Room, as we learn together what it looks like to join God's mission for the world as we follow Jesus in our daily lives. We will explore God's big story and His big-picture plan, look at biblical cultural background, and explore the Scripture. Together we will learn how God's mission for the world guides us practically and forms us spiritually each day as we follow Him. This exploration will get us excited about what God is doing in the world and how we can join Him! Please register for the group online at www.CrossRoadsChurch.ca/groups, but know that you can drop in any time!
Tim & the Glory Boys Concert
CrossRoads is hosting their Buffalo Road Show concert on Saturday, September 29 at 7:00pm in the Sanctuary. For tickets visit www.timmytour.com.
We are looking for volunteers for:
Load in/Load out (must be available for both)
Security
Doors/Ticket Takers
Swag/Sales of Merchandise
Hospitality
If you are able to help with this concert please email Linda. LindaC@CrossRoadsChurch.ca
Love in the Laces
This is worth celebrating! Just over 850 pairs of shoes have come in through Love in the Laces over the past four weeks for children and youth in our community. Thank you for your generosity in the giving of shoes, writing notes to kids and spending time at Womens Outreach distributing shoes.
You are invited to a debrief on Love in the Laces 2018 and a time to share stories and share suggestions for next year on Tuesday, September 25 in Room 202 at 7:00pm. Let's celebrate together!
Babysitters Needed
The Alpha course is looking for babysitters to spend time with the children while their parents attend the sessions. This course runs Tuesdays, September 18 to November 27. If you are available to help during these evenings, please email CamilleH@CrossRoadsChurch.ca.
We are short one... You!
WE NEED YOU! We already have everyone else but YOU. We are short ONE­–YOU. The babies of CrossRoads need YOU to come for the 6:00pm service to bless them in a way only YOU can. They need a minimum of 12 YOU's to help out once a month. Thanks for being YOU. Please contact JaqiT@CrossRoadsChurch.ca.
We're Hiring!
We have an opening for a part-time Food Services Assistant who will work out of CrossRoads commercial kitchen. If you have a love for and experience in building recipes and building community, please see our website at www.CrossRoadsChurch.ca/employment for more details.