WHAT ARE YOU WAITING FOR?
Pastor Jordan Cavanaugh
James 5:7-18
---
New to CrossRoads?
Welcome to CrossRoads Church! It's great to have you here. We'd love to meet you and give you some information to help get you connected. Visit us at the Connecting Point in the front foyer or text CrossRoads New to 393939. (Msg & data rates may apply) or click here.
---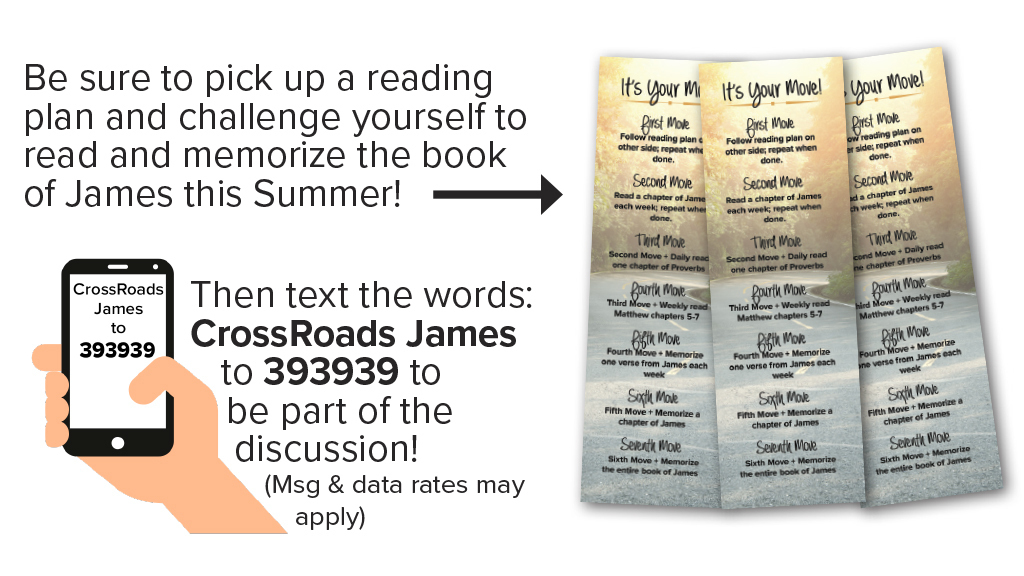 ---

Today at CrossRoads
Behind the Scenes Tour
Would you call CrossRoads home but still feel new? Or maybe it's your 1st, 3rd or 11th Sunday and you're intrigued about the 10,392 ft2 space? Join us after the service today for a twenty minute interactive walking tour and learn more about the children's department, facility management and kitchen environment. Following each service, meet your personal tour guide at the Connecting Point and gain your VIP pass and swag bag!
---
Events at CrossRoads
Greece Team Sharing Night
You are invited! Wednesday, August 29 at 7:00pm in the Trestle Room. The Greece team will be sharing about their time in Porto Astro serving alongside Hellenic Ministries during their Family Refugee Camp. It will be a great night! See you there!
MoMENtum
A night of wings, worship and encouragement - just for men! Tuesday, September 4 at 6:45pm in the Youth Centre.
FOCUS (Focused on Christ. United as Singles.) Corn Boil and Burger BBQ
If you're 40+ and looking to connect we'd love to have you join us for our Fall kick-off. Saturday, September 8 at 6:00pm at 6 Lilac Close, Lacombe. Bring a chair and $5 for BBQ. RSVP to Twilight and Grant Taylor at 780-228-8282 (text) or at taylorgt@telus.net.

Connect into Community - Fall 2018
We have an awesome variety of spaces for anyone looking to find connection at CrossRoads this fall! Come join us on Sunday, September 9 after one of the 3 services - snacks and beverages in the gym and all sorts of opportunities on display in the café! We hope you can stay a little, mingle and find your fit into community at CrossRoads.
GEMS Seniors Luncheon
Tuesday, September 11 at 12 noon in the Chapel. GEMS Ministry is starting another fun-filled year. CrossRoads Kids Ministry is the feature for this month. Join us for a time of connecting and delicious food! Everyone welcome. $10 per person.
Fall Alpha Course
Do you have questions about life, faith or God? Join in on the fall Alpha course, starting Tuesday, September 18, 6:30pm in the Chapel. This 10 week course is free and has a different topic each night and includes a meal together at the start of the session. No question is too simple, too tough or too out there - all are welcome to join. Email CommunityLife@CrossRoadsChurch.ca for more info.

Women's Retreat • September 28-30
The women's retreat is just over a month away and is filling up! Do you want to be refreshed, renewed and revived? Then this weekend is for YOU. Join us Sept 28-30 at Camp Kuriakos with speaker Christelle Baldovinos for a time of connecting with the Lord and women in our community. The weekend includes sessions, worship, workshops, good food and more. Cost is $155, including lodging and meals. Register at www.CrossRoadsChurch.ca/ComingEvents.
For any questions, please email womensretreatcrossroads@gmail.com.
*If you want to come but are unable due to finances, please contact us by email as we have a way to get you there!
Love in the Laces
Update: just over 400 pairs of shoes have come in so far this year. Please prayerfully consider blessing a child in our community with a pair of running shoes as they head back to school in September. Head to the shoe table in the foyer after the service for information on how you can get involved through donating shoes and serving at Women's Outreach as children come to pick out their shoes. For more info during the week you can contact Laurie at LaurieW@CrossRoadsChurch.ca.
---
Other News
Got Game?
Youth Ministries are looking for games and game consoles. Please contact us if at Youth@CrossRoadsChurch.ca if you are able to donate. We are looking for:
PlayStation 4 system and games
PlayStation VR
XBox 360 games
Sega Genesis System and games
GameCube and Wii Games
Employment Opportunity
We are looking to hire a part-time Food Services Kitchen Assistant. If you are interested please forward your resume to BobbiK@CrossRoadsChurch.ca. More information is available online at www.CrossRoadsChurch.ca/employment.
Phase 4 Update
Please join with all of us in praying that together we would have a deep sense that Jesus is leading us at every point in this journey. We are two-thirds of the way through the needs assessment and encourage you to pray for our Building Committee. Bob Northey, Rick Wiebe, Gordon Kingcott, Jake Poettcker, Jim Cramer and Lawrence Tomalty.