Hope Was Born This Night
Join us for our live services at 1:00, 3:00, 5:00 or 7:00pm!
(Please note: There are no morning services on Christmas Eve)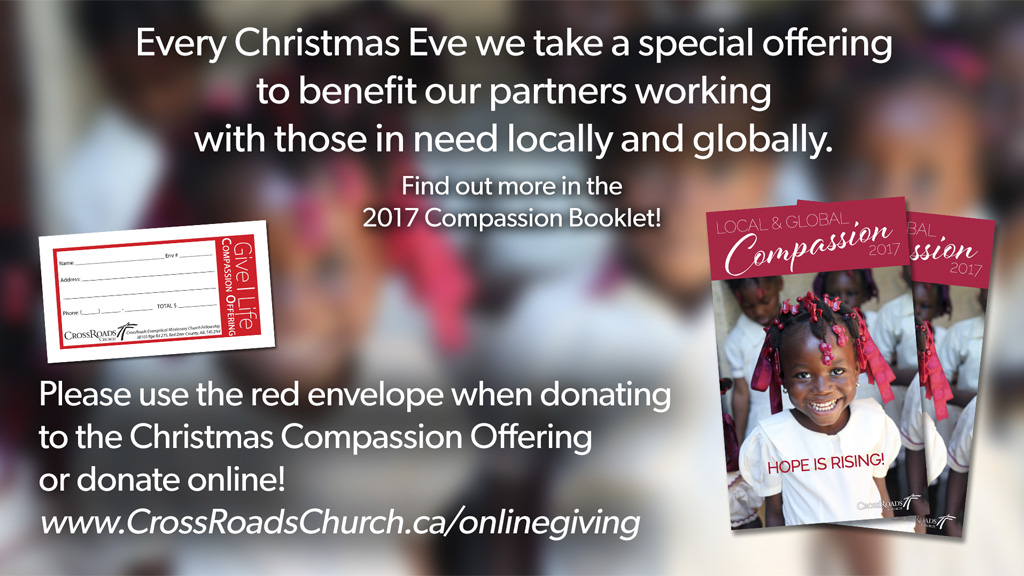 To find out more exciting details, be sure to grab one of the new Compassion Booklets from the Connecting Point or click below.



Tree of Remembrance
Throughout December, it is with honour that a tree is dedicated to you and your loved ones who have passed away. Please feel free to fill in a Tribute Card, and place it on the tree in the Cafe, in remembrance of your special person. We pray that this tree will be a place to stop and surrender: an opportunity for you to acknowledge your grief, and your loss, and place it in His loving hands. Please see the tree as a safe place to pray, but mostly, to remember.
ECHO
We encourage all students to attend service with their families December 24 and 31. Echo will resume in the New Year on January 7.
New to CrossRoads?
Welcome to CrossRoads Church! It's great to have you here. We'd love to meet you and give you some information to help get you connected. Visit us at the Connecting Point in the front foyer or text CrossRoads New to 393939. (Msg & data rates may apply) or click here.
New Year's Eve Party
Sunday December 31 • 7:30pm - 10:00pm in the Youth Centre. Please park on the West Side of the building and enter through the Youth Center Doors.
Thanks to a team of great volunteers, we have planned a little something for everyone:
9 Square and life-sized Dutch Blitz in the gym
Feast on ice cream sundays – S'mores style
Various board games and challenges
Connecting and meeting new friends
Special music in the Fire Side Cafe
Time capsule
Kids - make a party hat and noise maker or burn off some energy at the horizontal climbing wall
Balloon drop at 10:00pm
Kids under 18 years must be accompanied by an adult. Please register online by December 30


---
We're Hiring!
We are looking for the right individual to fill the position of Pastor of K-6 Ministries. More information is available at the Connecting Point.

Winter 2018 Groups!
Are you hoping to facilitate some type of group this coming January? Study group, connecting group, support group, hobby group? We'd love to assist you and help get the word out there to others. Please email CommunityLife@CrossRoadsChurch.ca to get started.
CrossRoads Groups Library
Please return study materials you are no longer using to the church office.
Coming up in January
January 2 - Pastor Dave's Amazing Birthday
We asked Pastor Dave how we can best celebrate him on his birthday and believe it or not he said he would really enjoy cleaning the youth center with all of the students! Grades 7-12 are invited to come help us celebrate pastor Dave with cake, piñata and a bit of cleaning from 1 - 4pm (don't worry it wont be for long)! Lets make our youth building shine as a gift to Pastor Dave!
January 8 - Haiti Team Sharing Night
Please come on out to see and hear about the Haiti team's recent trip. We will be showing pictures and sharing stories about our mission trip. 7:00pm in the Trestle Room.
January 10 - Sr High Kick Off
Grades 9-11 come join us at 7:00pm for our New Years kick off with the NOT SO AMAZING RACE. We look forward to competing with you.
January 11 - Jr High Kick Off
Grades 7 and 8 come join us in celebrating the new year and our youth kick off on January 11 at 6:45pm for an evening of FUN!!
January 14 - Connect into Community Event
Join us as we launch our winter semester of Community Life here at CrossRoads. There is something for everyone - men, women, singles, couples, young adults, youth, adventurers, children, families and more! Join us in the cafe and gym after any service for some great snacks, conversation and opportunity to find your fit here at CrossRoads.
January 16 - The Alpha Course
The 10-week Alpha course is your opportunity to explore the Christian faith. No question is too simple, too tough, or too out there. Try us. On Tuesday, January 16, join us for the Come and See Dinner in the Cafe at 6:30pm. For more information visit www.CrossRoadsChurch.ca/alpha.

January 17 - Thrive: Growing In Relationship With God, Self And Others
Because He Loves Me - Wednesday, January 17 at 9:00am. Ladies, join us as author, Deborah Veuger shares with us. Bring a book to exchange or donate to local schools.
December Prayer
Dear Lord,

We thank You that this month we get to celebrate the birth of Your Son who came to make all things new. We pray that as we enter into this busy season, this place would be filled with Your presence and peace. As people come in and out of the building this month for school concerts, special events and services, we pray that You would fill this building with an overwhelming sense of Your presence so that everyone who enters would seek You out.

We pray that Your Holy Spirit would be felt here, and that His power would draw people back to You. We pray that new people would come to know Your salvation this Christmas season. And remind us of the joy of knowing and serving You.

We pray that we would represent You well in all that we do—You have done amazing things for us and we are filled with joy! We trust that as we ask to be aware of Your presence in our midst, we would be changed to live out Your will and proclaim Your glory with joy and peace.

In Jesus' name, amen.
You make known to me the path of life; you will fill me with joy in your presence, with eternal pleasures at your right hand.
PSALM 16:11