Coming Events
Baptism - November 18, 2018
Have you been wondering about Baptism, or maybe you are ready to take this first step of obedience in following Jesus? Either way plan on attending one of the sessions following each of the services October 28, November 4, November 11. Go to the Connecting Point in the foyer after service for directions.
---
Operation Christmas Child
Operation Christmas Child Kickoff starts October 14! Each box is an opportunity for a boy or girl to experience the love of God in a tangible way and hear the Gospel. Visit the table in the foyer for your supplies. For more info contact Peggy at 403-342-1227 or peggykingcott@shaw.ca or Karla at 403-986-1695. Have fun blessing children around the world. Boxes need to be at the church by November 11.
Need ideas for your shoebox gift? Click here. Check out some of their interesting videos here.
---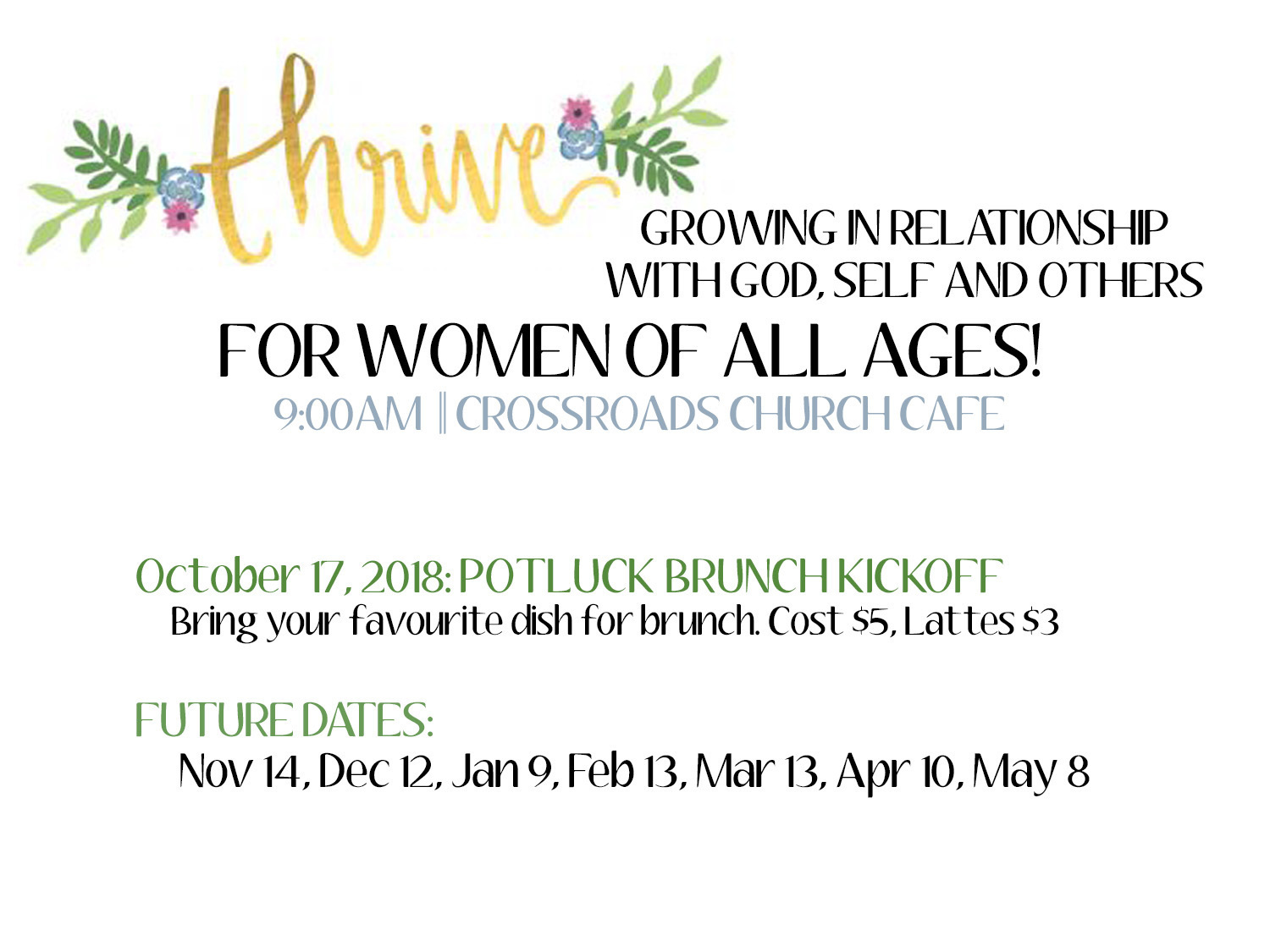 ---
Equip - Learn and Grow Together
This day will provide an opportunity for us to grow and learn together as a church body. This season's Equip sessions are based on the 20 Conversations on Following Jesus booklet. Choose from a variety of seminars to help strengthen your faith, understanding, and ability to share Jesus with others.

To register, please look at the seminar options and choose one that you would like to attend in each of the time slots (three total). If you cannot be here for the whole day, simply choose the seminars you are able to attend.

Lunch will be provided. Limited childcare is available.

If you have any questions, please contact Pastor Denise at DeniseS@CrossRoadsChurch.ca or call the church office at 403-347-6425.

EQUIP Schedule, Saturday, October 27
8:30 – 9:00 Registration
9:00-9:20 Opening Group Session
9:30-10:45 -- Session #1
10:45-11:00 – Break
11:00- 12:15 – Session #2
12:15-1:00 – Lunch (Café – please pick up your children for lunch)
1:00– 2:15 Session #3
More information...

This fall's Equip is themed around the 20 Conversations on Following Jesus booklet found here.

---

Engage
Join us on Saturday, October 27 from 9:00am to 12:30pm in the Trestle Room to learn about CrossRoads and what it means to be a member of our community. Includes lunch. Space and childcare are limited so register early! Register by emailing Michele Ramer at MicheleR@CrossRoadsChurch.ca
---
Glorify
A night of worship and encouragement for women in the Youth Centre on Tuesday, October 30. The evening begins at 6:45pm with desserts and fellowship and will move into worship and testimonies as the evening progresses. No cost, no ticket required! Just come!
---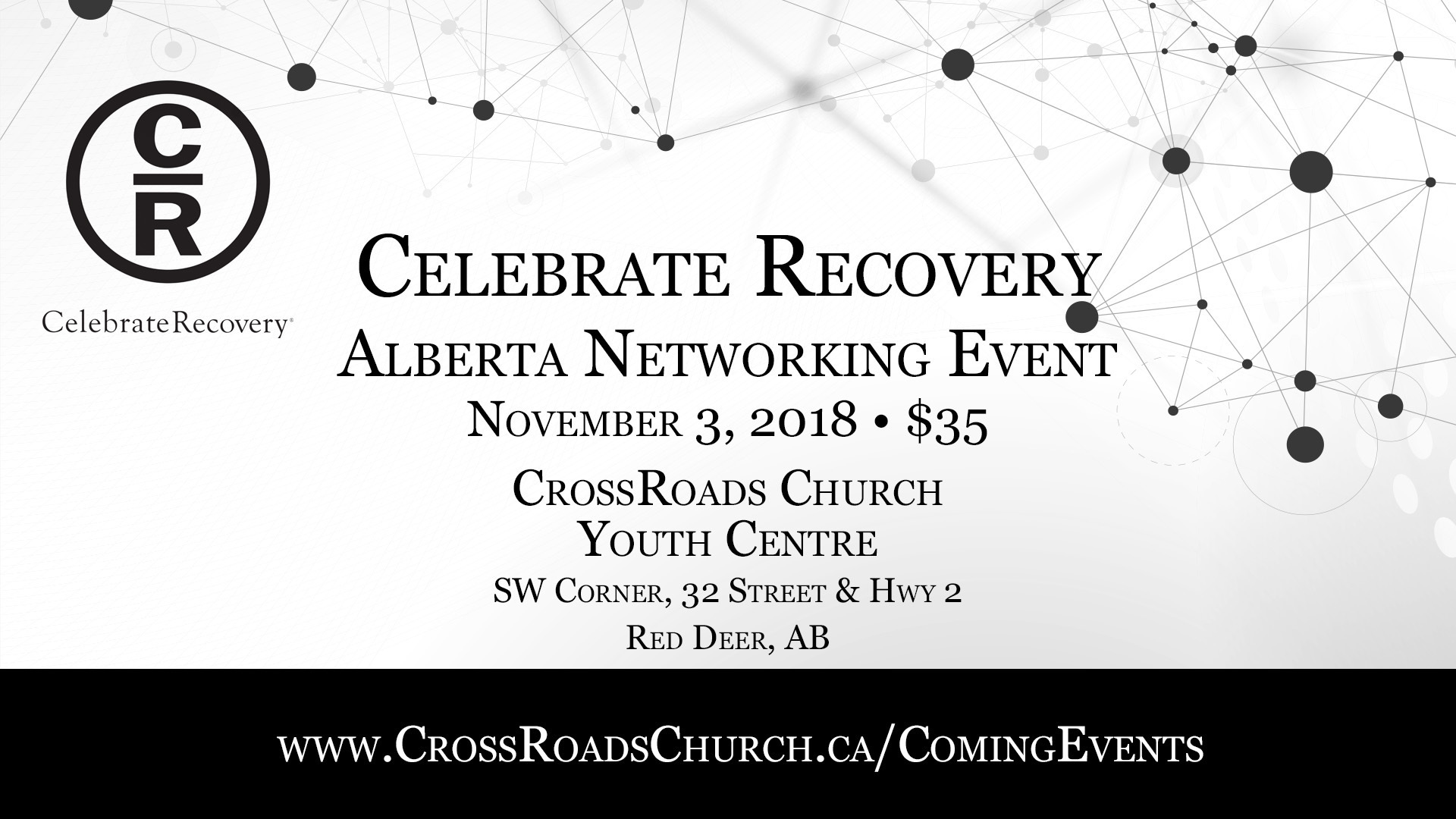 Celebrate Recovery Alberta Networking Event
November 3, 2018, 8:30am to 4:00pm at CrossRoads Church Youth Centre. The purpose of this event is to provide an opportunity for churches who are interested in starting a Celebrate Recovery Ministry learn about what that might mean for their church. This day is also an opportunity for churches in Alberta who have an active Celebrate Recovery Ministry to share information, encouragement, and fellowship as well as build relationships. Cost $35. Deadline to register: October 26.

---
Daddy Daughter Date Night
Monday, November 5, 2018 at 6:30pm in the Chapel. Dads bring your pre-k daughter(s) to enjoy an evening together with activities and snacks - Super-Hero style!

---

Fight Night
Fight Night!! An exciting simulcast event hosted by Drs. Les and Leslie Parrott.

It's a 2.5 hour "date night" that consists of two rounds:
1) Why we fight with the person we love the most?
2) How to fight with the person we love the most?

The main point of this event is that when you know how to fight a 'good fight', conflict becomes the price we pay for deeper intimacy.

Fight Night ensures that every couple leaves the event with new tools to bring them closer together - tools they can use immediately. It's a great event that's a fresh and new way to minister to couples. It's humorous. Authentic. Practical. Relevant. And did we mention that it's fun?!!!

---
Sr. High Retreat at Camp Caroline
Calling all Senior High Students!
Join us at Camp Caroline for a great time of building community, and growing in faith.

When: Nov. 9-11, 2018
Where: Camp Caroline. Drop off/pick up there.
Topic: More details to come.

Closer to the event, all registrants will receive a packing list, itinerary, and details about teaching times.

---
Christmas Banquet
Featuring REVIVE Gospel Singers
Saturday, December 1, 2018 • 5:00pm Gym/Chapel • $30 per person
Tickets available at the church office.
---
Bottle Collection for Missions
On the second Sunday of each month, you can bring your recyclables to the CrossRoads Kids/Chapel entrance (outside).

We will be providing a trailer to collect your bottles, cans, juice boxes and milk jugs and turning it into money that will impact missions around the world. Thanks for making a difference for the Kingdom!